Lady Mustangs' season ends at Carlisle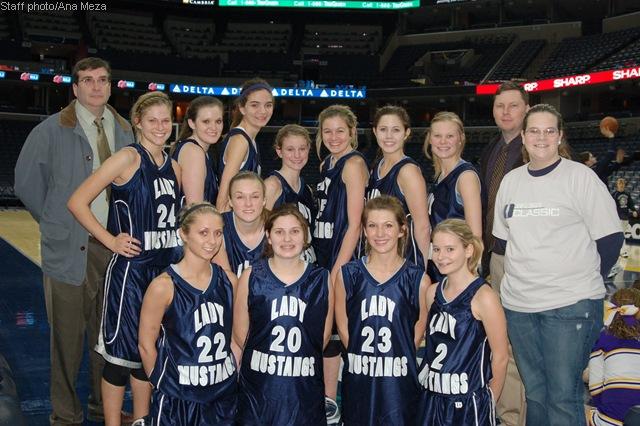 One of the highlights of the Lady Mustangs' season was playing at the FedEx Forum in Memphis on Feb. 1.
BIANCA GARCIA – Hoof Prints Staff
The Lady Mustang's season came to an end on March 4 at the state basketball tournament in Carlisle. They played against Conway Christian who was seeded second. The Lady Mustangs put up a good fight, but Conway Christian was ready for their opposition. They lost the game by fourteen points. The Lady Mustangs ended the season with a 24-11 record.
Seniors Shelby Qualls, Whitlee Rolland, Holly Dempsey, and Jamie Harris expressed sadness at the last time they would play together. After the game, some of the team members reflected upon their season.
Shelby Qualls
"The game itself was hectic because we were only down by 10 or 12 the whole game, but afterwards I planned on not getting emotional, but then Coach Fowler told us he couldn't think of BIC without the senior girls there."
Whitlee Rolland
"Before the game started I was thinking about how sad it was going to be but I tried to focus about the game itself instead, but once the clock started ticking down that last minute everything hit me all at once and I realized I would never play as a Lady Mustang again. I'm going to miss all the girls who were like sisters to me and Coach Fowler but I will be there to cheer them on as much as I can!"
Holly Dempsey
"My last game as a Lady Mustang was upsetting but then I started to think about our team and looking around at all the girls and thought of my life only because our team is our family. My last game was upsetting only because that was the last game I'll ever play with them girls. I'll miss everyone of them and will always love them."
Taylor Owens
"We had an awesome year and we will miss the seniors, but we look forward to another great year."