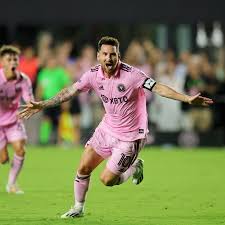 After winning the world cup, soccer star Lionel Messi shocked the entire world. After news broke out that David Beckham's team Inter Miami secured a deal to acquire Messi, it seemed like the whole world was star struck. Messi made his debut on July 15, 2023 against Cruz Azul in the Leagues Cup.
Lionel Messi, 36, officially joined Inter Miami of Major League Soccer. His contract commits him to the team through the 2025 M.L.S. season. Messi will reportedly earn between $50 to 60 million per year in a compensation package that includes a signing bonus and equity in the team.
A soccer prodigy as a child in Argentina, Messi moved to Spain to sign with Barcelona at age 13 and soon became a talked about young player. He made his debut with the first team at 16 and went on to a spectacular career, winning every major trophy and six Ballons d'Or as the world's best player. He moved on to Paris-St. Germain in 2021, where he won another Ballon d'Or, and his team dominated the French league, although it failed to win the Champions League.
He has been the leader of the Argentine national team almost since his 2005 debut, and added the final trophy missing from his collection when he won the World Cup with them last winter. Fans and historians have been saying that his greatness as a player is rivaled perhaps only by Cristiano Ronaldo in his own era and by Pelé and Diego Maradona from any era.
Lionel Messi made a storybook introduction to life at Inter Miami, scoring the winning goal with a stoppage-time free kick after coming off the substitutes' bench at a sold-out DRV PNK Stadium in Fort Lauderdale, Florida. On the final play of the game, the seven-time Ballon d'Or winner stepped up to the ball 25 yards out and found the top corner with his famed left foot to give Miami a 2-1 win over Mexican side Cruz Azul in the Leagues Cup.
On his debut Messi arrived with the team about two hours before game time, dressed in the team colors with a pink T-shirt and black shorts. He stopped for a few photos and handshakes as he entered the tunnel leading to the locker room. He got a hug and shared a few words with LeBron James, an athlete who knows a thing or two about making a highly celebrated move to Miami, after he joined the Heat in 2010 and won his first two NBA titles in a four-year stay, on his way to the bench. Messi took his seat and watched his new team start his new era.
It was a gathering of GOATs at Messi's debut match: Lebron James and Serena Williams were there – like Messi in soccer, they're in the conversation of "greatest of all time" when it comes to the NBA and tennis. Music legends Gloria and Emilio Estefan were there, as was Kim Kardashian, saying one of her sons had a particular reason why he had to attend.
Since joining, Inter Miami rose to the highest-selling MLS team for tickets from the 13th spot on StubHub. Since joining Inter Miami, Messi is the top-selling player across all sports on Fanatics, a digital sports platform that sells gear and team merchandise, a company spokesperson said. In the time since Messi joined Inter Miami, the team has sold more merchandise than it did in all of 2022 on Fanatics. And he's been a boost to MLS' TV home on Apple's streaming service. Ticket prices on the secondary market have shot up. The average ticket price for Inter Miami on StubHub is $161, nearly 64% higher than the league average. Nationwide match-up ticket sales are up, too. The overall average MLS ticket price is up to $98, while the average ticket price for the Leagues Cup overall was $152. For games that Messi has played in, the average ticket price is more than double that at $329, according to StubHub, according to CNBC.
Since the arrival of Messi to Inter Miami the MLS has seen an increase in viewers. Now even people who have never seen a single game of soccer in their lives have kept up with Miami. Call it the Messi effect.