Elementary girls catch the spirit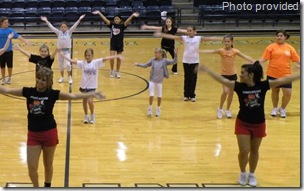 Madison Finch and Bianca Garcia teach the dance routine to the cheer clinic participants.
MADISON FINCH – Hoof Prints Staff
Every year, the senior high cheerleaders organize a cheerleading clinic for the elementary students. This gives the cheerleaders an opportunity to raise money while also having fun. The clinic is offered to students from grades pre-k through sixth grade from both East Elementary and West Elementary.
The camp was held on Saturday, Oct. 10. It began at 9:00 am and concluded at 11:30 a.m. All students who attended were required to pay $25 for both the clinic and t-shirt. Fifty-four girls were registered to attend.
This year's new cheerleaders who helped with the clinic are Lindsey Pittman, Chasity Garrett, Alyson Routon, and Clarissa Rodriquez. The squad has nearly doubled in size since last year.
"I am so proud of my girls. They prepared all the material themselves.  They made up the chant, cheer, and dance," April Finch, sponsor, said.
The cheerleaders choreographed the dance to Miley Cyrus' "Let's Get Crazy." It was taught by Madison Finch, Bianca Garcia and Megan Misner.  Lindsay Rice, Whitlee Rolland and Lindsey Pittman taught the chant, and Kaley Poe and Mallory Crites taught the cheer. Alyson Routon, Chasity Garrett and Clarissa Rodriguez migrated to each group to assist those who needed individual help.
"My favorite part of the clinic is the social interaction with the kids.  That's why we began preparing the material at the beginning of school,"  Finch said.
Lindsay Rice believes that the hard preparation is worth it once she sees the aspiring young faces. "The cheer clinic is the main thing we do that I look forward to because I get to see the little girls' smiling faces as they perform for the crowd," Rice, senior, said.
The clinic participants and senior cheerleaders will perform all material learned at Mustang Madness on Friday, Oct. 16.