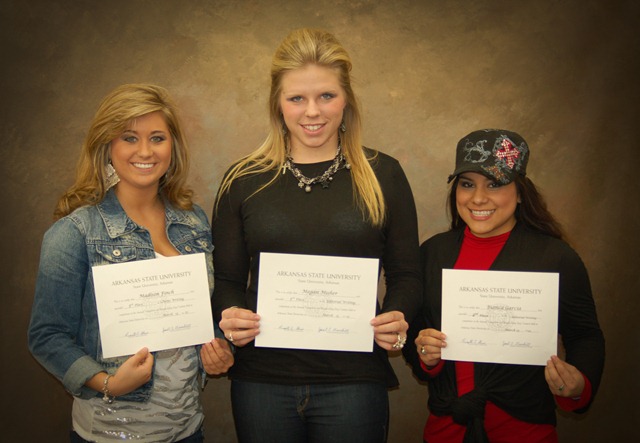 Madison Finch, Megan Misner and Bianca Garcia display their certificates from ASU Journalism Day.
Members of the Hoof Prints staff competed at the 72nd Annual Journalism and Broadcasting Day at Arkansas State University today, bringing home several awards.
In the editorial writing competition, Bianca Garcia won second place, Megan Misner received third place, and Madison Finch was awarded an honorable mention. Finch also won third place in the news writing category. Garcia was recognized for her photographic talents with an honorable mention in the photography contest. In the newspaper competition, Hoof Prints tied for third place with Batesville.
Finch, Misner, Garcia and Kayla Stacy attended the individual contests in the morning and then returned for the awards ceremony in the afternoon. Awards were presented by longtime journalism department chair Dr. Joel Gambill, who is retiring this summer.
"I'm thrilled with my staff's performance today," said Tracey Yates, adviser. "I don't think we've ever won so many awards at Journalism Day, and I'm so pleased that our online paper was recognized with a third place win."