First chair, no hair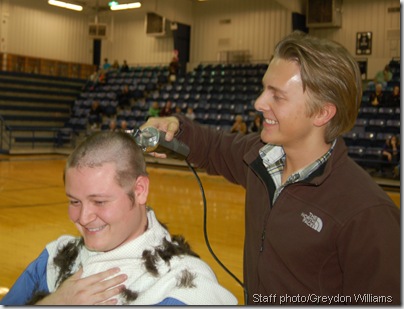 Clay Turner uses goat clippers to shave the head of choir director Kane Bradley as a reward for making first chair in All-Region Choir tryouts.
GREYDON WILLIAMS – Hoof Prints Staff
The crowd at the MAC anxiously watched the action on the court, but they weren't watching basketball. It was "skin, sweat, and hair." The audience watched in confusion as Clay Turner shaved the head of Mr. Kane Bradley.
One of the stranger things about this shaving is that they used goat clippers to shave his head. Mr. Rose said that he had joked about this but apparently Bradley listened to him.
On October 13, the junior high choir tried out for All-Region choir. Mr. Bradley, the choral director, informed the students before they tried out that if 10 of them could make the choir he would shave his head bald. Out of the 41 junior high students to try out, 7 of them made the choir, so the shaving was put off.
On October 20 the senior high choir tried out for All-Region. The senior high kids were told by Bradley that if one student out of the 16 trying out could make first chair that he would shave his head. Senior Clay Turner accomplished this goal.
"I got to shave his head."said Clay. "It felt empowering because it's not every day that a student is given the opportunity to break through the student-teacher barrier and do something so outrageous."
The All-Region choir has 20 chairs for each voice part, which includes soprano 1 and 2, alto 1 and 2, tenor 1 and 2, and bass 1 and 2. The number of students trying out on each voice part varies, but only 20 out of each voice part make it. In junior high seven students made the choir: Cory Turner, Alex Talavera, Fred Bradley,Weston Holt, Austin Clayton, Shyanne Hughes, and Kaytie Castanon. The senior high students who made it are as follows: Stephanie Hill, Breanna Bearden, Elizabeth Bowling, and Clay Turner.        
"I'm just as proud of the students whose scores improved as the ones who made the choir." Bradley said.
While not every student made the choir, nearly everyone who tried out last year had better scores this year. Mr. Bradley sees this as an accomplishment in its own.
"When I gave the junior high kids their scores back I also gave them back their scores from last year. The improvements were great." Bradley said.
Clay Turner made first chair in the All-Region tenor one part. The basketball team, the fans, and choir students all watched in laughter as he was shaved bald. Bradley is now sporting a beret for a short time.
"I'm making up for the bald hair with the beret, and I think I'm doing a good  job." Bradley said.