The lean, mean golfing machine hits the green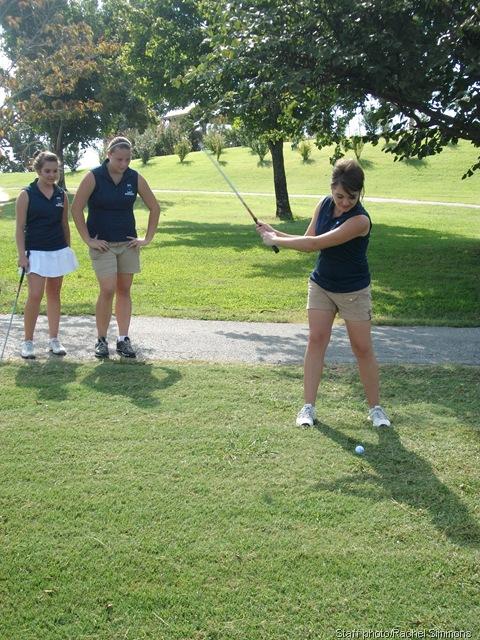 Lauren Roddy takes a practice swing before district.
CLAY TURNER – Hoof Prints Staff
Pay attention to your posture. Watch your hip movement. Keep your head down. Try to aim right. These are just a few things Lauren Roddy has to keep in mind after choosing whether she needs to use her Taylormade R7's or her Iron Callaway Diablos on the course ahead.
Lauren has been playing golf ever since she was little. But if not for her father, she never would have dabbled in the sport. He was the one that would explain to her how to hold a golf club and how to address the ball. Though, according to her, it wasn't always fun and games.
"He made me practice a lot. Every time we'd go outside, we'd play a little," she said.
This continued on until she hit seventh grade when she stopped playing. Until ninth grade, all she played was softball. Then, during that summer, something clicked and she gained an interest in it once again. So she joined the golf team at school.
She began enjoying it again as she practiced every week with the golf team and then with her trainer, Bo Smith, from the Blytheville Country Club. So on top of practices with her team, she was going to him two to three times a week until about 5:30 to gain the practice she needed for district tournament.
She competed in district her ninth grade year to earn medalist and again in regionals to earn fourth overall. During her sophomore year, she was district medalist runner-up. This year, she competed and won medalist. She, as well as the rest of the golf team, advanced to state. The golf team is scheduled to compete the week of September 26 through October 2.
Through golf, Lauren has the opportunity to meet new people. It also gives her an excuse to wear her cute, pink uniform on the course. Though most people have that special person on the team that makes them work a little harder, Lauren has to work a little harder to advance past her own sister.
"Last year, Sarah and I tied for medalist, so we had to play a tie-breaker against each other. Sarah ended up beating me by one stroke."
It's not always a bad thing for the sisters. "Sarah and I get paired up to play together. She keeps me going by making me laugh."