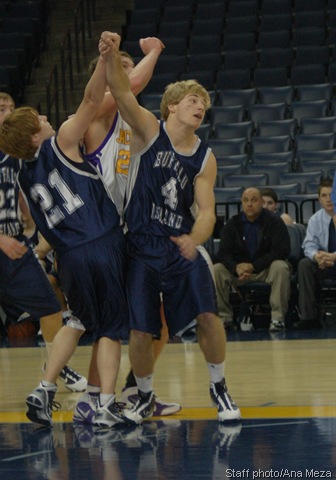 Brent Ray and James Tate do their best to keep the Yellow Jackets from scoring during the exhibition game at the FedEx Forum on Feb. 1.
BIANCA GARCIA – Hoof Prints Staff
On Feb. 1, the high school basketball teams experienced a once in a lifetime experience. Both teams were given the opportunity to play an opening game for the Memphis Grizzlies at the FedEx Forum.
The first game was played by the Lady Mustangs at 1:00 p.m. They played against the Bay Yellow Jackets. The girls played a good game. However, they couldn't manage to pull off a win. The boys team followed afterwards. They also played the Yellow Jackets. The boys gave it their all, but they couldn't keep up with the Jackets.
Following the games, the teams went to eat, then they headed back to the Forum. The teams had the opportunity to watch both the Grizzlies and Lakers warm up, while sitting on the first level of seats. After warm-ups the teams were escorted to their seats to watch the NBA game. Even though the teams lost, they still left the Fed Ex Forum with many memories.
Kalee James
"For me the experience was unbelievable! I will never forget playing on the same court, as the people I watch on t.v.! I felt like a little ant because it was so big. But I will always be able to say, 'I scored two points in the Fed Ex!'
Drew Berry
"It was totally different from playing anywhere else. I felt kind of like I was miniature in a way because the Fed Ex is so big."
Taylor Owens
"The best part was knowing that a few hours later, on the same court, some of the greatest players in the game today would be playing there. That was pretty cool!"
Drey Crabtree
"I was a little nervous because it was a new gym that I never played in before, but I was happy because I knew that this was a once in a lifetime opportunity to do this."
Jamie Harris
"Playing at the Fed Ex Forum was a great experience! Playing on the court was quite different with all the lights and the depth of the goal, but it was pretty cool and you got used to it after a little while. The food was good and the Grizzlies vs. Lakers game was exciting too! I was rooting for the Grizzlies to win and they did! I wasn't too fond of our seating selection, but other than that it was a memorable trip."
Brandon Atkeison
"It was a great experience playing on the same court as some of the NBA's best players."
Holly Dempsey
"Well I had a great time and playing on the court was a little different, but the best thing I liked about playing on the Grizzlies floor is the 3 point line. I have always wanted to play there and it was a great experience."
Heath Hawkins
"I thought playing in the Fed Ex Forum was a blast. It was an awesome experience and I think everyone enjoyed it. The best part was playing in the same place as some of the greatest."