Scholarship plans on hold for Pittman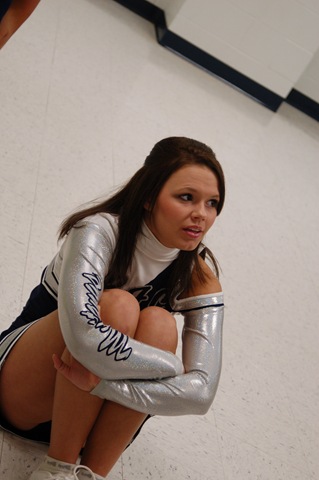 Lindsey Pittman
DANIELLE SCHOOLEY – Hoof Prints Staff
Five-Six-Seven-Eight. Inhale. Exhale. Go.
She can feel the eyes of everyone in the crowd on her, waiting to see her next move. She takes off in full sprint, leaps, pushes off the court with her hands and launches herself into the air, flipping over a full time and sticking her landing.
Senior Lindsey Pittman takes a quick moment to gauge the crowd's reaction before returning to the rest of the cheer squad.
She dreams big, hopes for the best and sees a bright future ahead of her. Lindsey Pittman, captain of the cheerleading squad, has been waving pompoms while wearing silver and navy since fourth grade.
Lindsey has always been committed to cheering. She always has a smile on her face while on the court. She spent many years learning how to tumble, how to fly, and how to be the best cheerleader she can possibly be.
Lindsey has always enjoyed cheering even though she has been subjected to many injuries such as spraining her ankle four times and breaking her wrist once. However none of this has ever stopped Lindsey from doing what she loves – cheerleading.
She has trained hard to become a great cheerleader, in hopes for receiving a scholarship to cheer in college.
"Since Brannah Barrett, I have been the only cheerleader that has wanted a scholarship to cheer," Lindsey said.
The Buffalo Island Central cheerleading squad has competed before and they were very successful at competition. Lindsey's seventh grade year, the team received first place in regionals against Riverside. When the team competed for state, they received third place although Lindsey does not believe that was a fair decision.
"In all technicality we got first because we competed against a co-ed squad and an all-star team," Lindsey said. "Technically a 2A school is not supposed to compete against schools like that."
Lindsey had her dreams of a cheer scholarship ripped from her just a few weeks ago at cheer practice.
The first time the cheerleading squad met this year, Mrs. Brooke Dunigan broke the news to the team that they would not be competing this year. Lindsey was devastated.
"I really do enjoy competing," Lindsey said. "When you compete it makes you feel like you really are something," Lindsey said.
The bad news did not only devastate Lindsey because she enjoys being at competition but she realized that her chance of receiving a cheer scholarship was over. Lindsey thinks by not competing, there will be no one to look at her for scholarships.
"Most people do not come to a high school basketball game to look at one female athlete cheer for a scholarship," Lindsey said. "That is the only way I am going to be looked at, and if we don't compete there goes my chance of getting a scholarship."
Competing is not only important to Lindsey; many of the other girls on the squad want to compete.
"There are actually several girls that are very disappointed that we are not competing," Lindsey said.
Mrs. Brooke Dunigan understands that Lindsey wants a cheerleading scholarship, but she believes that it is too late in the game to put together things for a competition.  She is not only the senior high squad coach, but the junior high squad coach also, so the demands of her schedule led to the decision not to compete.
Mrs. Brooke believes that Lindsey has a lot of potential and she can be a cheerleader but she believes that Lindsey is better off getting a academic scholarship.
"Lindsey is awesome," Mrs. Brooke said. "She can definitely become a cheerleader just by trying out. But Lindsey is so smart that her academics will over weigh her cheerleading scholarship. She would probably get a lot more money if she took a academic scholarship but she can still cheer for a college."
Although this news has changed Lindsey's outlook for her college plans, she is not giving up. She still has hope that something will change and they will somehow get to compete.