Sarah Roddy finishes in top 10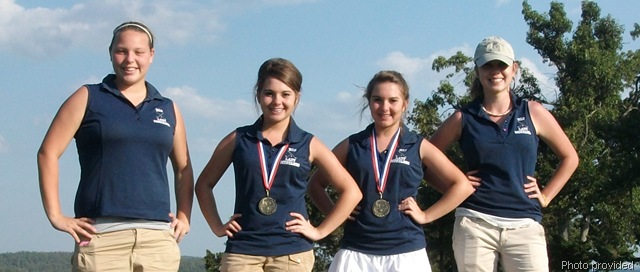 Girls' golf team members, from left, Brittany Stockton, Lauren Roddy, Sarah Roddy and Rachel Simmons, competed at state in September. Sarah Roddy finished ninth at state.
JILLIAN KEY – Hoof Prints Staff
Waiting patiently inside the club house, they watched as the scores were displayed on the window. Biting finger nails. Twiddling thumbs. Pacing. Then she saw her name. Sarah Roddy, ninth place, All-State.
Sarah competed in All State in Conway, Arkansas on Sept. 29.  There were 58 girls competing against Sarah. Only the top 10 is placed. She scored 105.
She practiced at least two hours a day. First, she gets loose with range balls and then goes through the course. She also went to golf pro, Beau Smith, two or three times a week to practice in Blytheville on things that she needed to perfect in order to do well in All State. When she goes to Beau, he teaches her new techniques.
Beau teaches Sarah waste-high drills so that her body turns. He has also taught her a tee drill. The drill is to tee the ball up really high so that it helps her to learn not to hit under the ball and not to make a hole in the ground when hitting her club. Also, he has taught her how to line up to her target, set up her ball, and to discover how far away you are from the green.
The first time Sarah competed she placed in the top 20, and now she has gotten better in the past year by placing ninth. Sarah hopes to do even better next year.