New trainer on duty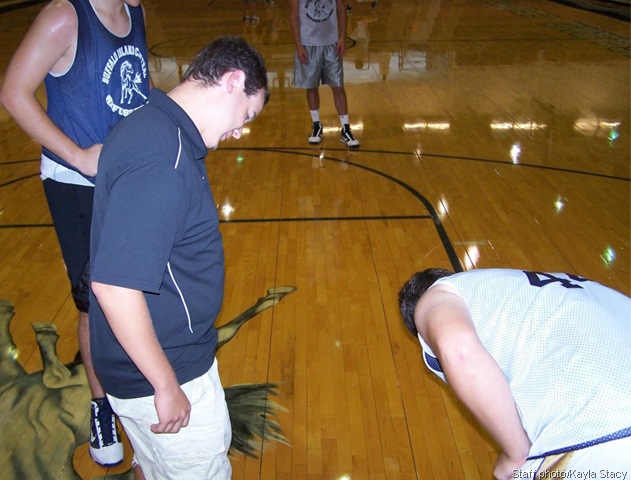 Athletic trainer Blake Davis assists a Mustang basketball player during practice.
KAYLA STACY – Hoof Prints Staff
Around lunch time on a Thursday during football season, 13 year old Blake Davis sat inside an athletic training room the size of a locker room. There were several 2×7 ft. long desks where Davis watched athletic training students do their pre-practice treatments. Feeling overwhelmed Davis knew right then he wanted to be an athletic trainer.
During the four year program at ASU, Davis was responsible for being part of a six week rotation for different sports programs where he performed treatments. In his four years, he rotated among football, baseball, soccer and volleyball. He has also done a clinical rotation at the student health center at ASU, a physician rotation with some of the physicians in Jonesboro, a radiology rotation where he got to study x-rays and rotation at BIC with former athletic trainer Johnny Grooms.
In 2003, when Davis was a junior in college, he became a youth pastor. He was a youth pastor two years at a church in Jonesboro. After those two years, he took a break for about three years. He is now a youth pastor at a church in Paragould and has been there for the past three years. "I felt the calling when I was in the ninth grade," Davis said. Later in life he plans to go to a seminary school and earn a masters in religious study.
Before Davis came to BIC, he was the athletic trainer for GCT. Davis works through Arkansas Methodist Medical Center. So when they made an executive decision to do some rotating around he came to BIC in place of Grooms.
Although Davis is a youth pastor, he doesn't let that interfere with his job as trainer. There are times when it does complicate his schedule, but there are times when they complement each other as well.
"The toughest decision is what to do on Wednesday nights," Davis said. "Most of the time, it's obviously being here. This is my full-time job." The coaches try their best not to schedule games on Wednesday nights due to religious activities.
Davis is always around students, regardless if it's being at church or in the gym. It keeps his relationship among the students strong. Some of his students in his youth group do play sports. "I kind of keep them accountable on the field and they kind of keep me accountable on the field and court," Davis said.
Davis's main job as an athletic trainer is to make sure the athletes are warmed up before practice as well as games to prevent injuries. Athletic training is mainly physical, but it can be mental as well. If the ball players have a bad day, Davis tries to encourage them. He says that if a player comes off the court upset that he would remind them that it's not about their past problems, it's about what is going on at that time.
"I try to motivate the kids by being positive, I always try to be as positive as I can," Davis said. "Sometimes you got to turn the heat up a little bit."