New coach already full of Mustang pride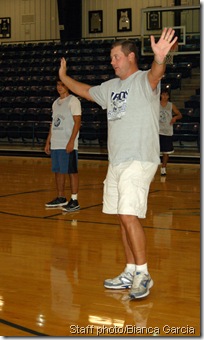 Coach Eoff goes over defense techniques at a recent practice.
BIANCA GARCIA – Hoof Prints Staff
Who's the new coach in town, and what does he have to offer? Mr. Garrett Eoff is the senior high basketball coach, but most people call him Coach Eoff. He is a native of Center Ridge and a high school graduate of Nemo Vista, class of 1996.
"I had a real good coach in high school who was very influential on my life, and I loved sports growing up and I felt like coaching would have been my calling," Coach Eoff said. Coach Eoff went to college at Williams Baptist and pursued his dreams. He played baseball and golf while in college, until he graduated in 2001.
Coach Eoff's first coaching experience was as the junior high boys' basketball coach in Mammoth Spring. From there, he was both the coach for basketball and baseball at Black Rock from 2002-06. While at Black Rock, he won the Bryant Glenn McCurley Award, and he was a Class A representative for an all-star baseball game in 2005. Coach Eoff's most recent coaching experience was at Weiner where he coached both basketball and baseball from 2006-09.
The decision to coach here was not a hard choice for Eoff to make. "This is an outstanding school. The winning traditions of the past, and this community has always supported the athletic programs and I wanted to be a part of it," he said. "With open arms the people here have treated me, I feel like I have been accepted into the community and I feel very fortunate to be a part of it," Coach Eoff said.
For this year's basketball seasons, Coach Eoff's main concern is teaching the fundamentals. He also wants to teach the boys lessons. "A lesson that I plan on the boys learning when their time is done is that if you respect something and treat it properly, then you in turn will receive respect from others," Eoff said. He also wants to inspire the team to have a passion for the game.
For Coach Eoff, time is the largest concern. It takes a lot of time for a team to become comfortable with a new coach. "I would say in the pre-season we practice 12 to 15 hours a week, and that requires a lot," he said.
Also, new coaches usually face many types of criticism, but Coach Eoff knows how to handle it. "If you handle criticism as a professional things tend to go smoother. I am going to do the best that I can with as much class as I can," Eoff said.
Coach Eoff considers himself different from our previous basketball coaches by his youth. "I'm 30 years old, I'm married, but I have no kids, and I feel that my age is a good age to where I can still associate myself to where the kids are at now," he said. He is also very energetic and very passionate about the game. His goals are to teach lessons about life, as well as lessons about basketball.
"Mustang pride is in full gear. We would like the support from the communities and if people can come out and support our kids and really get behind them," Coach Eoff said.