New athletic director keeps the 'Stangs on top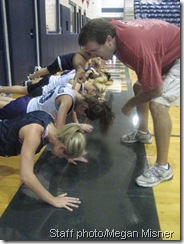 Coach Stan Fowler works his team in practice, one of his many duties as both girls' coach and athletic director.
MEGAN MISNER – Hoof Prints Staff
This July Coach Stan Fowler was appointed as athletic director for BIC's well known sports program. Being the athletic director is a large task, but Coach Fowler is tackling the situation head on.
The athletic director is in charge of scheduling all games, hiring referees, making sure the eligibility is correct, and organizing the program. So far, he has made sure everything was up to date.
Fowler's appointment to the position was a first in BIC athletics. Never before has there been an athletic director other than the boys coach. Mr. Randy Rose, high school principal, has been asked many times why he enacted this change.
"Coach Fowler has shown himself capable of performing the necessary tasks. He has performed all of these tasks at his prior school, so he knows what he is doing," said Mr. Rose.
Coach Fowler said he was very excited to obtain this position, especially because at the time of his appointment they were looking for a boys coach. He explained that he wanted to be a part of the selection process because he wanted to find the best coach available.
Coach Fowler has big plans this year. His plans include making sure Joe V. Jones runs smoothly, handling the money efficiently, and keeping as many kids in the program as possible. "We want
to promote the program," Coach Fowler said.
Coach Fowler has put a lot of time and effort into planning upcoming events. He currently is preparing for Mustang Madness on October 16, the Jamboree at Ridgefield Christian October 17, and Joe V. Jones October 19-24.
Coach Fowler has big goals for the whole athletic department, and not just the girls' basketball team. "When you are the athletic director, you're not just worried about the girls' basketball. You are worried about the whole program and not just basketball. You worry about the cheerleaders and you take care of baseball, softball, all athletics."
Coach Fowler is putting his hardest effort into getting the students involved with athletics and getting support for our teams. "As athletic director you want to make sure Buffalo Island stays on top," Fowler said.