Metallica opens for Lady Mustangs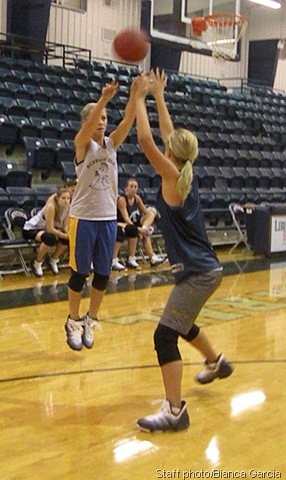 Jenna Pike and her teammates practice for the upcoming season.
BIANCA GARCIA – Hoof Prints Staff
Exit light. Enter night. Take my hand. We're off to never never land. As the chorus of "Enter Sandman," by Metallica blares throughout the gym, the senior high basketball girls wait in the locker room before the run out. Some are nervous, worried about how they will play and what their opponents will be like. But as "Enter Sandman" plays, the girls remember the meaning of the song, and become pumped for the game.
As seniors, Jenna Pike, Taylor Owens, Jenny Walker and Kalee James get the opportunity to make a playlist of songs for their warm ups. Most of the time the songs consist of the best hits of the year. But this year while picking the most important song, the run out song, this was not the case.
While at home, Jenna talked to her step dad Michael McFarlin about a song to run out to. In 1992 Michael was a member of the senior basketball team that won the first state championship for BIC. He told Jenna that they ran out to "Enter Sandman" and that their basketball team should too. Jenna knew right then that was going to be the song that they ran out to. She just had to make sure her teammates agreed. "My teammates loved the idea," Jenna said.
Last year the senior girls' basketball team relied on a stuffed animal from the the movie "Up," to help them win a tournament. It's safe to say that they are superstitious. This year the girls may need a lucky charm to help them win some games.
Since Michael's team won state that year, the girls are hoping for the same outcome. " I hope it's our lucky charm to win state," Jenna said. However, if the team loses the game, the song will not change.
"You win some, you lose some. So we won't change the song," Jenna said.