The bird is the word for Lady Mustangs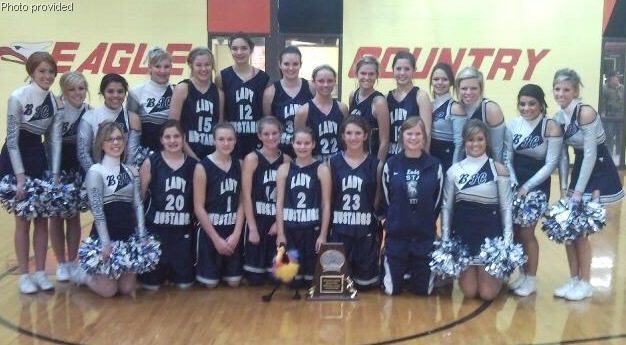 The Lady Mustangs and cheerleaders proudly display their first place trophy from the Bradford tournament. Uno Mas also shared in the victory and was included in the picture.
LINDSAY RICE – Hoof Prints Staff
This season started off a little shaky for the Lady Mustangs, but then the team stumbled upon Uno Mas. Uno Mas is a stuffed female bird named Kevin from the move Up. "I bought the bird because of a joke that some friends from Jonesboro were going to try to play on me, which was snipe hunting," said Micah Thompson.
According to the team, the first game Uno Mas was present for was the game at Yellville, which they won after a long slump. It wasn't until the next game against Armorel, which was another victory, that the team decided the bird was lucky.
"We never see the bird before the game, but he is often asked about to make sure he is at the game. Mrs. Beth Thompson holds the bird during the game and afterwards everybody rubs his head," said Whitlee Rolland.
It seems that everyone on the team takes part in the post-game rituals including the bird. In fact, after the final game in the Bradford Tournament, Uno Mas was in the picture right next to the first place trophy. Not only do the girls love the bird, but it seems that Coach Fowler and Coach Cossey do also.
"At first Coach (Fowler) just laughed at us, but now he is as crazy about the bird as we are.  Coach Cossey just goes along with it and laughs," said Whitlee Rolland.
"He (Coach Fowler) loves the bird! He pets his head too along with Coach Cossey. He kissed the bird after our Midland game," said Taylor Owens.
Obviously, the team is very superstitious. Coincidentally, this season seems to have turned around since they got the bird. Since Uno Mas was purchased, they have won seven games and only lost one. Even if the bird is nothing more than superstition at best, at least it has given the team a much needed morale boost.