It's a first for BIC golf team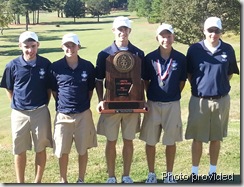 Golf team members Ryan Stuck, Dax Hurst, Jacob Sanders, Trey DePriest and Coach Cary Cossey.
DANIEL CARMICHAEL – Hoof Prints Staff
For almost 20 years the Buffalo Island Central golf team has had one goal in mind. Win the state tournament. This year's combination of players aligned perfectly for them to achieve a longtime goal. Jacob Sanders, Ryan Stuck, Dax Hurst, and Trey DePriest.
After after a disappointing performance at the District tournament at Turkey Mountain, the four competitors went to the Conway Country Club to play for state.
The team worked hard after they won District so that they would not play as poorly as before.
"I practiced at least three hours a day," junior Ryan Stuck said.
Although they practiced as much as they did, the team still struggled at state. Sanders shot a 107, Stuck shot a 90, Hurst shot a 82, and DePriest shot a 73.
"I played horrible," said Sanders. "It was one of my worst round all year."
"I was so mad that I threw my clubs," Stuck said.
The players may not have played the best, but they were able to go on to keep playing. Ryan Stuck placed ninth, Jacob Sanders placed 67th, Dax Hurst placed third, and Trey DePriest placed second. Both Hurst and DePreist qualified to go to All-State.
"It felt amazing to win the tournament," said Stuck. "Now I can brag with Brandon about having a ring, too."
"It was amazing," said Coach Cary Cossey. "I have came close before, but have not won yet. I finally have."
When DePreist and Hurst went to All-State, DePreist shot a 80, and Hurst shot a 95. DePreist finished eleventh, and Hurst finished last.