Green cheerleader turns blue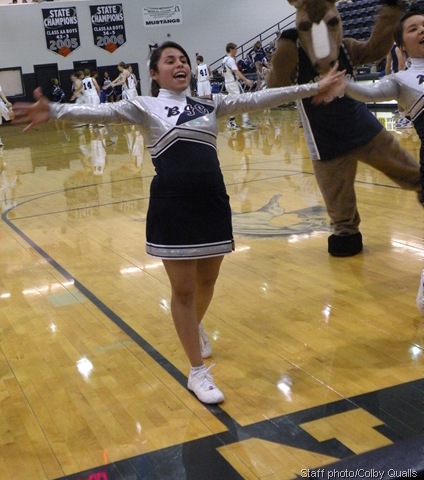 Brenda Cordero cheers on the Mustangs at Tuesday's game against Rector.
KAYLA STACY – Hoof Prints Staff
Standing in her front yard as Lindsey Smith teaches her to do backhand springs, Brenda Cordero decides she wants to be a cheerleader. It was in second grade when her attention turned towards this sport.
"When I was little, I liked to watch all the girls in the skirts," Brenda said. "I knew I wanted to learn all the moves and how to tumble."
From fourth grade until sixth, Brenda was a very active cheerleader. During recess she was either practicing cheers or practicing her cartwheels and backhand springs. She did this at home as well.
However, Brenda's middle school years were different. Her seventh grade year she tried out, but didn't make the squad. Her eighth grade year she didn't make it to tryouts because she didn't have a ride since her parents worked all the time. Her ninth grade year, she wasn't allowed to try out because she didn't have a parent present.
When Brenda got to high school, she wanted to try out, but her responsibilities stopped her.
"I couldn't cheer tenth or eleventh because my parents were always working, and I had to cook, clean and babysit my little brother," Brenda said. "I really missed cheerleading and I knew my twelfth grade year I was trying out again."
Brenda's decision to try out aggravated her family. "When I tried out my dad was mad at first, because they didn't know who was going to watch my little brother, but they're okay with it now" Brenda said.
Brenda worked in the summer to save money to pay for the necessities of cheerleading. She had to buy one uniform, two pairs of shoes and pay for camp and camp clothes. Half of the payment has to be paid by the end of first semester and the other half by the end of the year. Her parents helped pay some of the cost.
Brenda's main problem is trying to find a ride to all the meetings and games since her parents are at work the same time of the meetings and some of the games.
"On Sundays, Mrs. April takes me to the meetings and on Wednesdays I have to stay with my aunt after school," said Brenda.
Although Brenda has little experience in high school cheerleading, she plans on trying out in college.
"I would suggest younger girls to try out," Brenda said. "Some people don't think cheerleading is hard, but it does get tough. The stunts aren't easy to do, but it would be good for younger girls."