BIC to host state tournament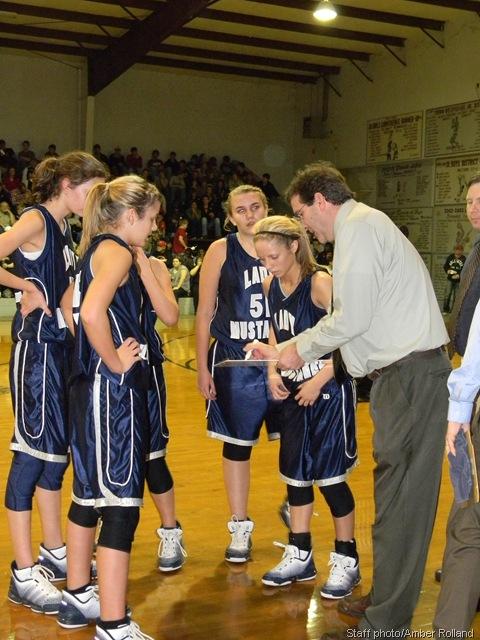 Coach Stan Fowler confers with his team during the recent district tournament. Fowler has been busy in recent weeks preparing for the upcoming state tournament.
CLAY TURNER – Hoof Prints Staff
Dr. Kima Stewart sits in her chair awaiting her chance to take the floor. She was only informed that she was to place a bid for hosting the state tournament a mere week before due to the unexpected snow day.
After being told that she was bidding against five other schools for the event, including Magazine, a school which had just had a new gym build two weeks before, she is finally given the opportunity to speak. She tells them how our school has two things unique about it.
First, we are all about basketball and we don't have other competing sports. Second, we have equality for our genders. She also states that she, as well as many others incorporated with BIC's administration board, promised people that if they paid the 2 million and plus dollars to build the Mustang Athletic Complex that they would get elite tournaments.
"We were just doing what we promised," she said.
A week later, Dr. Stewart's endeavors in front of the 21-member Arkansas Activities Association board were rewarded when BIC was told that they were to host the state tournament Feb. 28-March 5.
Now with the state tournament looming, there is the question of preparation. Athletic Director Stan Fowler said that he and the rest of the administration have looked to see if there is anything that needs fixed, replaced or cleaned in the gym itself but that it is well-maintained so it's really not an object of concern. He says that you also have to prepare for parking, massive concession crowds and make sure the hospitality room is in good condition for the coaches, officials and administrators from neighboring areas.
"If you make the coaches feel welcome, the officials welcome, the administrators feel welcome when you come here," Coach Fowler said, "You know, it leaves a good taste in your mouth."
In addition to the immediate tasks to complete for preparation, Dr. Stewart also says that they plan to invest in restoring the condition of the floors, securing wireless internet for the media that covers the event and Ritter plans to help them secure live action coverage during the tournament.
Coach Fowler doesn't seem to think that money is a concern for the tournament either.
"The money that you spend in an event like this is gonna come right back to you," he said, "So if ever there was something you had on your mind that you would like to do, this is the kind of year to try and get it done."
He said that the money the school makes off the concession stand is usually a tremendous amount especially if we have all three windows going.
"If you can put on a good show here," he said, "Then three years later, if we ask for it again, we stand a much better chance of getting it or regionals if we've done a good job."
Coach also says that even if our BIC athletes don't make it to state, the tournament would nonetheless bring benefits for our area in general. He said that we would have the opportunity to showcase our school district and community and improve our business and public relations.
Not only will we benefit, but also the Jonesboro area will. They will get an influx of hotel, restaurant and local store spending.
"We're gonna see a ton more traffic in this town and the money keeps getting turned over and over so it's really good for the area," he said.
Fowler is counting on his girls' basketball team to also reap some benefits from hosting the state tournament.
"Hopefully they'll have a little bit of a home-court advantage," Coach said.
They'll have bigger crowds than they normally would and they'll be able to scout the other teams if they continue to win. Unlike the other teams, they will also be able to sit there and watch them at their own place instead of having to drive hours to watch a single game.
Throughout this season, Fowler has been clear about his team's goal to win state.
"It's like Mount Everest, it's there," he said, "You know, you come in here every day and you stare at those four state championship banners. You practice every day with those four state championship banners. You want to do something like that and be a part of something that's bigger than yourself. It's not about your personal glory but the glory of the team and it's something the kids will remember for the rest of their lives."