Taylor era coming to an end
On Friday, January 29, Coach Bill Taylor broke the unexpected news to his ball players. His coaching days were drawing to an abrupt close.
Prior to the homecoming games against Marked Tree, Taylor explained his decision to the team as they huddled in the locker room.
After a three decade career, he has decided to try something else for the sake of himself, his family, and the players.
"I've just decided that after 30 years of coaching, it's a lot of pressure and I need to try something else," Taylor said. 'I don't know what that something else is, and I don't even have a job planned out right now. It takes a toll on me – physically and mentally wearing me out. I just feel that I'm getting up there in age and it's a young man's game."
Though he will no longer be in the coaching position as of next year, he intends to continue to support the team and be a dedicated fan.
"These are my guys," he said. "I'm not tired of them. It was a hard decision, and I'm going to miss them terribly. I'll be following really closely."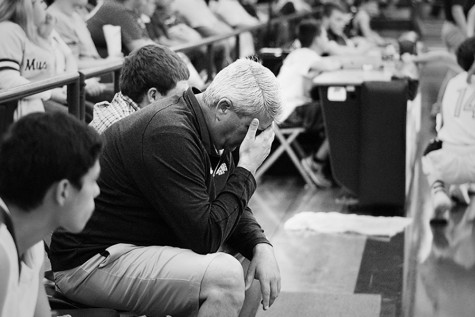 He also hopes that his players will take what he has taught them and grow from it, in addition to what they will learn from the future coach.
"I want my players to keep the passion and pride – to have great pride in our school and program," Taylor said. "I want them to remember what it means to be a team and to love each other. I'd be disappointed if they didn't remember those lessons." 
"
The wins and losses here mean more to me than anywhere else.
— Bill Taylor
Not only will he continue supporting the basketball program but will also support the school as a whole.
"I'll always follow BIC. My kids graduated from here, and even though I didn't attend here, this is my home school," he said. "It's a different and special place for me. The feeling when we're playing well is just different than anywhere else. There's nothing to me like winning at BIC. The wins and losses here mean more to me than anywhere else."