Taylors return to Mustang Country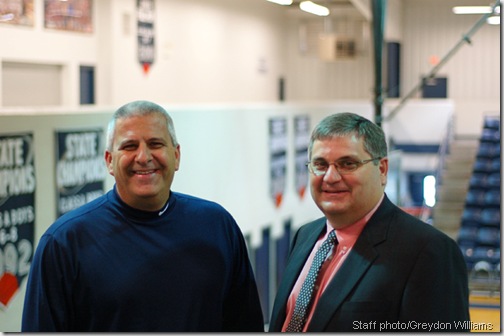 Bill Taylor and Gaylon Taylor
GREYDON WILLIAMS – Hoof Prints Editor
Gaylon and Bill Taylor have in ways had similar careers. Both have been basketball coaches. Both have coached at BIC. Both have brought home two state championships to the school.
However from there, their career paths took different turns. Gaylon Taylor has gone on to teach, coach, and have roles such as principal at Valley View. Bill Taylor has gone off to coach at other schools. However both have returned this year to BIC. Gaylon as superintendent and Bill as basketball coach. Now ,for the first time, they are working together with the elder Taylor, Gaylon, as boss.
"He is my boss, but moreover Mr. Rose and Mr. Hurst are my bosses," said Coach Taylor.
Gaylon Taylor, former basketball coach, history teacher, principal, and current superintendent, has returned to BIC with a vision.
His wish is to give all students equal opportunity in learning necessary skills for what they wish to do outside of high school. His goals include increasing  the level of technology for the district, and most importantly keeping students in school.
One way students can now learn hands-on skills is through the new vo-tech classes, which offer students the option of going to JHS and learning in a special field such as culinary arts, medical procedure, automotive service, etc.
Mr. Taylor also plans on upgrading the school's technology. Wi-fi will be available in all rooms, and it is also possible that laptops could be checked out for student use.
He also is looking into the possibility of sharing a teacher with another school for classes currently being taught via distance learning. Taylor said he believes that not everyone learns best through the DLC program and that there needs to be another way for students to learn these subjects.
"I look at any student, I may not know them by name, but I think that it's my responsibility to provide the best that I can for that student," said Mr. Taylor.
Mr. Taylor is not the only Taylor returning to BIC, his brother Bill Taylor has also returned to be basketball coach.
Coach Taylor started his coaching career at Parkin High School. From there he went to Delta High School and eventually to BIC. Coach Taylor coached basketball for nine seasons at BIC, beginning in the 98-99 school year and leaving the 06-07 school year. This year is Coach Taylor's 29th year coaching.
"I coached two years before the three-point line came in, that's how old I am," Coach Taylor said. "I never dreamed I'd get this opportunity to come back. This is home and I am just thrilled."
Coach Taylor began his practices within a week of when he was officially hired, but he was only able to hold these practices after school due to still being under contract with the Manila School District.
Coach Taylor said he has held approximately 60 practices and has seen great improvement since the beginning, but says he is frustrated by how far they still have to go.
One thing he hopes for is that students will come to fill the student section back up.
"Let's get this place rocking again! It's discouraging to play when the building is nearly empty," he said.
Coach Taylor has one goal for his basketball team this year, to make the state tournament.
"Once you get in the tournament, anything can happen," he said.
The first game this year will be on October 27 against Bay High School, the defending state champions of class A.
"It's a tough, tough opener," Coach Taylor said.
Taylor also mentioned how this will be his "last stop" in the coaching business.
"This'll be the last place I'll ever coach, and I'm just thrilled to be back," he said.
Both Taylor brothers share the same sentiment about being back at the school.
"I feel that this is the best school district in the state, I believe it's the number one district in the state, and if you don't believe that then you don't need to work in this district," said Mr. Taylor.
"
Let's get this place rocking again! It's discouraging to play when the building is nearly empty.
— Bill Taylor