Once in a Homecoming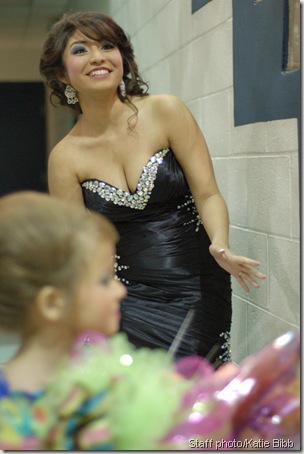 Saraid Vasquez reacts to the news that she has been named Homecoming queen.
ASHLYN PACE – Hoof Prints Staff
Everyone is waiting anxiously in the crowd, the music starts and then it's just moments before
the announcer calls the girls onto the court with their escorts.
This is the experience of Homecoming,
the experience that one particular senior, Saraid Vasquez will remember for the rest of her life.
Homecoming queens are crowned every year, but this year was the first time that BIC has crowned a Hispanic Homecoming queen.
"I'm proud of it" said Saraid.
As is tradition, the announcers asked everyone to stand as they announced Saraid Vasquez as the 2013 Homecoming queen. It wasn't just the crowd that was left speechless either.
"I don't think he could even smile, he was so nervous" said Saraid when asked about her escort junior Alex Ballin.
Excitement is still overflowing from the outcome of Homecoming night and not just from the reigning queen.
"I was very excited because she's one of the people who actually deserve it" said senior Connor Berry.