Music teacher a jack of all trades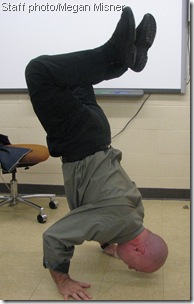 Mr. Bell demonstrates his strength and agility in class.
COLBY QUALLS – Hoof Prints Staff
Mr. Jerry Bell, the most recent choir director of the Mustangs, has always had a passion for music. Even from an early age, he expressed interest in performing arts, especially in drama. His career though, and even his hobbies, has not solely depended on music throughout his life.
In school and his early years, Mr. Bell was involved in gymnastics. He spent his spare time training for these competitions. He trained in many different areas, but his area of expertise was the trampoline. He was even so experienced that he qualified for nationals one year. At nationals, he placed sixth on the trampoline. This accomplishment was dear to Mr. Bell, but at the same time, he didn't have an interest pursuing this any further.
After high school, he attended college to obtain a degree in an area that was his true fascination, drama and music. Mr. Bell at that time did have dreams and aspirations of becoming a performer and possibly hitting it big in the business. While he did get his degree, he did not continue the pursuit of performing.
"At that time, I had gotten married recently," Mr. Bell said. "When you're starting a family, you can't really risk their well-being in this trade. You need a steady income."
Mr. Bell soon found himself working on an oil rig.  Here he provided the steady income for his family. His job was to throw the chain in order to trip the pipe.  He was known as a floorhand or chainhand. He was content with this job and worked until the business crashed.
From the oil rig, Mr. Bell enlisted in the military. He said that he absolutely loved the service and served for 10 years. Through the military, he also was able to travel. He has been to Europe twice, spent three years in Hawaii and has spent some years in Asia such as Korea, Guam and Japan.
After he had served his country, he spent some time dabbling in restaurant chains. He even owned his own restaurant that was similar to Ryan's. Even this kept him occupied for only so long. Soon, he ran a new type of institution that revealed his other love, children.
"I have always loved children and wanted to help them," Mr. Bell said. "What better way than to help those who need it most?"
Running a children's shelter was not an easy task though. At times, it really took a lot out of him. One child for example, would spend her time hiding razor blades. She would later use these to harm herself and others. If she was left alone with other children, she would most likely be found strangling the other children. The saddest part of it all was that she was only six years old.
Not all things were gloomy related to the children's home though. Not only did Mr. Bell feel that he made a difference in the children's lives, but he also met three children that he would later adopt as his own. His affection for children is conspicuous since he has a total of eight children now. He continued to run this children's shelter until he felt at odds with the system.
"Eventually, I just saw what the system was really like. From there, I decided the best way I could help children was to teach," Mr. Bell said.
Mr. Bell already had the degree for music, but he didn't have the degree to be an educator in Arkansas. Thanks to the new nontraditional teaching program though, he is able to earn the full degree while still teaching. On some days he even is required to attend class.
In his spare time, Mr. Bell enjoys writing. He considers his genre of choice to be in philosophy, more specifically metaphysical/action. He is currently working on one of three books. In the near future, one of his books may be found on the shelves in one of the nearest bookstores.