Meet our Mustangs: Kallie Minchue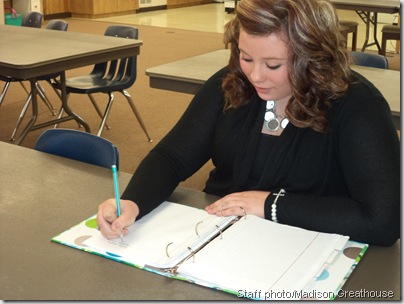 Kallie Minchue
CAMDEN METHENY – Hoof Prints Staff
As she walked over to get her diploma, she turned around and threw up on stage.
"That was probably one of the most embarrassing things that's happened at school," said Kallie Minchue, a senior at BIC.
"The only reason I puked in the first place was because I was so nervous. I'd never done anything like it before, so I didn't know what to expect."
Kallie, who's gone to Buffalo Island Central since kindergarten, is often described by her friends as outgoing, but others have called her things such as "rude" and "impolite" because she's vocal about her opinions and isn't afraid of hurting someone's feelings when being honest.
"The only reason people think I'm rude is because I tell people what's on my mind and what I think," she said
She isn't involved in any clubs or extracurricular activities and spends most of her free time outside of school waitressing at Bigg Butts BBQ in Leachville and being around her boyfriend, Nick Love.
One of her favorite things about BIC is the teachers, specifically Mrs. Cornish, who has taught at this school for over 30 years.
"She'll threaten to bodyslam you if you don't do your homework," Kallie said. "I'm serious. She hasn't done it to anyone in our class, yet. So I guess that threat works."