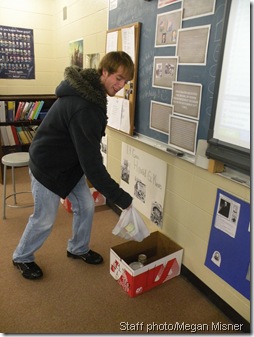 Adam Tompkins contributes to the junior class box in the canned food drive.
MEGAN MISNER – Hoof Prints Staff
The Future Teachers of America club is hosting a can food drive now through Wednesday, Dec. 9. All of the food from the drive will be given to the American Legion, where it will be delivered to the needy. Each class competes to have the most ounces. The grade with the most ounces will receive 15 points toward their homecoming week score. The second place will receive 10 points and the last place recipients will receive five points.
"I'm hoping we have a large donation to give to the American Legion. It's a great way to help the community during Christmas season, "stated Mrs. Hatch.