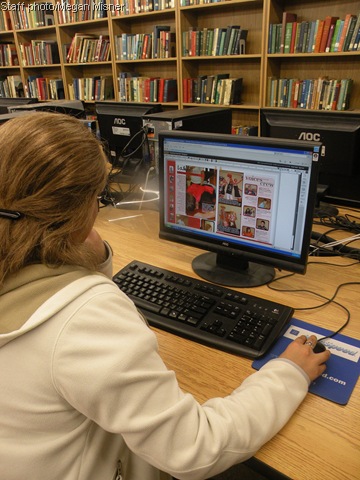 Mustang Yearly co-editor Ana Meza reviews pages of the 2010 Mustang Yearly before they are submitted for printing.
MEGAN MISNER – Hoof Prints Staff
Orders are now being taken for the 2010 edition of Mustang Yearly. Yearbooks can be ordered online or an order form may be filled out and returned to Mrs. Tracey Yates, yearbook adviser. They will be on sale from now until March 19.
Once again, the yearbook is in full color. The theme is "I Think You Should Know". It will feature interesting and possibly unknown facts about many students. In addition, the staff is taking extra measures to increase each student's coverage in the yearbook.
For a small sample of the yearbook, a poster is located at the end of the hall by Mrs. Yates's room. The cover is also on the poster. This year, the staff is allowing the students to get a sneak peek of their yearbook. "We want the students to be excited and also want to see more of the book," said Mrs. Yates. "Every year we want to produce a better yearbook than the year before and we encourage others to order one."
Ana Meza, senior co-editor, stated, "I am very excited about the yearbook this year because our theme is exceptional. The staff has put a lot of effort into making it look good. I encourage everyone to order a yearbook because I do not want them to miss out on a fantastic year."