DLC classes up for debate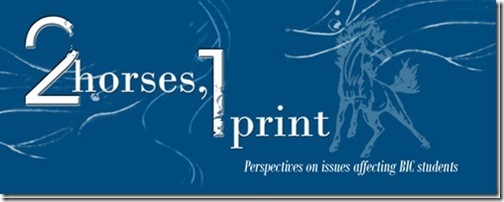 BIC does not need DLC
BIANCA GARCIA – Hoof Prints Staff
The Distance Learning Center has been at high school for five years. For these five years, the students' ability to learn has gone to waste. People might think that this is a good way to use technology in school, but this the only good thing the DLC has going.
At high school the DLC classes are usually about foreign language or mathematics. This class is taught over a monitor in front of the room, and the teacher is located at one of the DLC locations. There are also two ways of communication. One is through a microphone located in the room, but this microphone is usually on mute. The second and primary way of communication is through the DLC website http://dlc.k12.ar.us/. Each student is provided with a computer during the class.
I think the main reason DLC is not needed at BIC. is that the students are not given the attention they need. As a 2A school, students have an advantage of learning more because the teachers get to know the students and are able work with them in their academics. During a DLC class, the teacher on the monitor has to watch two different classes over a screen, which can add up to 30 students at the least. This teacher is not able to get to know the kids as they would if it was a normal class.
Another reason DLC is not needed at BIC is that students do not learn as much as they would if it was a regular class. Most of the time during class, half of the students do not pay attention. These students do not get caught because there is not a close eye on them because the teacher has to watch two classes and teach at the same time. Also this doesn't work since every student has a computer in front of them. Even though some websites are blocked, this doesn't stop the students from going online to look up random stuff.
These things take away from a students' ability to learn. This is probably why many dread going to these classes. Some people might say that the students are doing well in the class because they have a good grade since they worked for it. Think again! Most of these students in these classes have good grades because they cheat; it's not very hard to do in these types of classes. So are these students learning much? I don't think so!
Hopefully, someone will take into consideration in the near future that DLC should not be at BIC any longer.
A different option for learning
ANA MEZA – Hoof Prints Staff
The ADE Distance Learning Center classes are currently the only way for students to receive foreign language lessons. The school district has enrolled the help of DLC because there are a limited number of licensed foreign language teachers in the area.  In my opinion, DLC classes are a better option.
In this advancing society, I believe that the DLC classes provide the most advantages to the students. By attending the DLC classes, students experience a new environment; they interact with their instructor and other classmates over the internet and projector screen.
Since they must speak through small microphones, students also build better communication skills. They learn to speak clearly and loudly during their Spanish classes. They also gather listening skills when performing listening activities since the voice they hear is usually electronic.
In addition, many students learn to work with different computer programs and hardware to accomplish their daily tasks.  They work with Sametime, an innovative way to hold meetings with others, as a way to communicate with their instructor.  Many of the Spanish meetings require students to write and draw in Sametime. They also learn to use the ELMO, a projector that displays hand-made drawings and project, to convey their ideas and assignments. Lastly, students use Microsoft PowerPoint to create vivid presentations over the material they have learned.  These programs and hardware teach the students to be proficient in computers.
Students also make new friends through the DLC classes.  Local students are conjoined with students all over the state when they take a DLC Spanish course.  For example:  A BIC class of sophomores may be joined by a school from Fayetteville class during Spanish I
Lastly, the students are better preparing their selves for the future.  Many colleges now offer online classes, and students who enroll in DLC classes get a feel of distance learning before they even graduate. This is a big help because some students may save time and money or may work out a more comfortable schedule by taking online college classes.
Although many students object and dislike the DLC classes, I think their advantages outweigh their disadvantages.