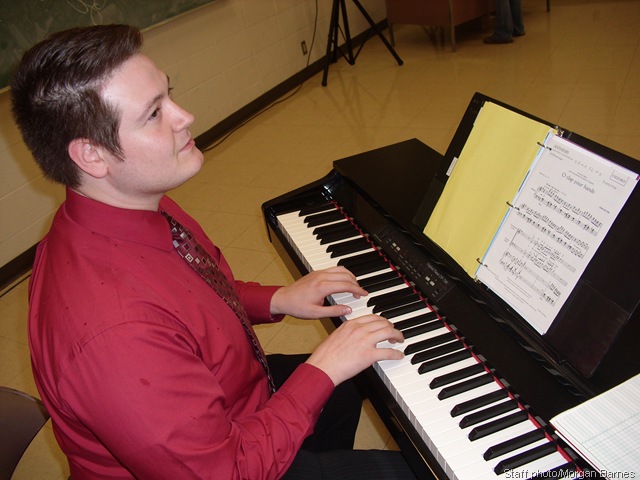 New music teacher Kane Bradley gets his choir class warmed up to practice their numbers for All-Region Choir tryouts.
MORGAN BARNES – Hoof Prints Staff
Mr. Shy. Mr. I Hate Rap. Mr. Single. Mr. Kane Bradley.
Recently hired choir and music teacher, Mr. Kane Bradley loves his new career. After graduating from Arkansas Tech University in his hometown of Russellville, Mr. Bradley began searching for job opportunities. Obviously BIC was calling his name.
"It was the only one that gave me an interview and said we want you to come here," Mr. Bradley said.
Once arriving at his first day on the job, he realized BIC was where he belonged. Friendly administrators, hardworking students and the laid-back atmosphere allowed his first day as a teacher to run very smoothly.
"I knew this was a good place," Mr. Bradley said. "So far I've had a good experience."
Mr. Bradley enjoys having a good time in his classroom. His students do not find it hard to feel relaxed and free-spirited in his class. After all he is known for having a 14 page set of rules and regulations which included the tip, "tapping your toes is good exercise to reduce toe fat."
While most students seem to enjoy the atmosphere of his class, not everyone agrees with his music choices.
"I hate rap," Mr. Bradley said. "I loathe rap."
Along with rap, country music makes the bottom of Mr. Bradley's list, although he enjoys listening to bluegrass, similar to country.
One would wonder how Mr. Bradley finds the time to enjoy bluegrass. When he isn't in class, he spends his time completing lesson plans, grading papers and preparing test papers. Mr. Bradley has dedicated his time to this school. He loves his job and the rewarding feeling of teaching someone something new.
"It's awesome to get the feeling of when you see it in a student's face when they finally get and finally understand what you are trying to teach them," Mr. Bradley said. "And you see the light in their brains go click. That is just rewarding."