Who let the crickets out?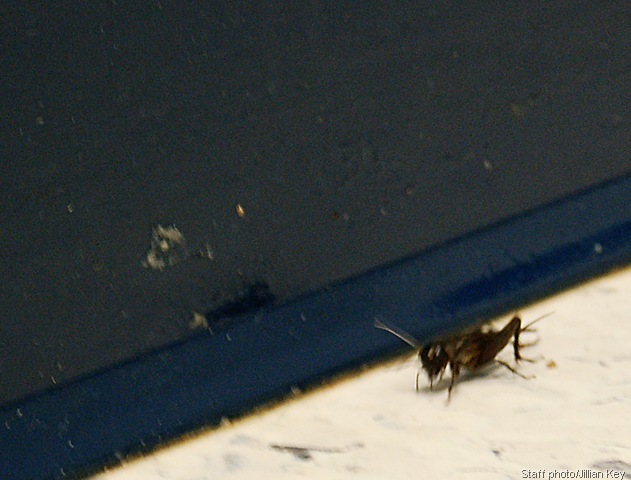 JILLIAN KEY – Hoof Prints Staff
You can't have driver's ed in the gym without being serenaded with them in the background. You can't play dodgeball in physical education without not only getting someone out, but also killing one in the process. You can't even walk a straight path without stepping on a few. Crickets.
Any student or staff member that has entered our Mustang Athletic Complex in the past couple weeks has without a doubt noticed the presence of these black, screeching crickets. With that being said, one needs to be introduced to Kellie Russell. Ms. Kellie is not only the keeper of the MAC, cook at our concession stand, but she's also become our cricket exterminator.
"I just need my foot, Raid, and a broom," said Ms. Kellie.
Ms. Kellie described that she has to walk around the whole gym constantly squashing crickets and sweeping them up. She also stated that in one day, she had killed and collected a Dollar General plastic bag full of them. Ms. Kellie's theory is that the crickets are caused by the fields being sprayed nearby, so the crickets make their way to the gymnasium.
In addition to the extra work Ms. Kellie is having to do to keep the chirping insects under control, the crickets are posing a unique problem for the basketball teams. Boys' basketball coach Garrett Eoff said that crickets are constantly on the court when his team is practicing.
"We've been chasing crickets during our dribbling drills," Coach Eoff said.
The cricket invasion has even spilled over into the players' dressing rooms.
"I promise you that I dump at least three or four out of my shoes every day," Dilynn Strickland said.
Everyone is hoping for the cricket apocalypse to end before the start of basketball season on October 5.