Waiting game well worth it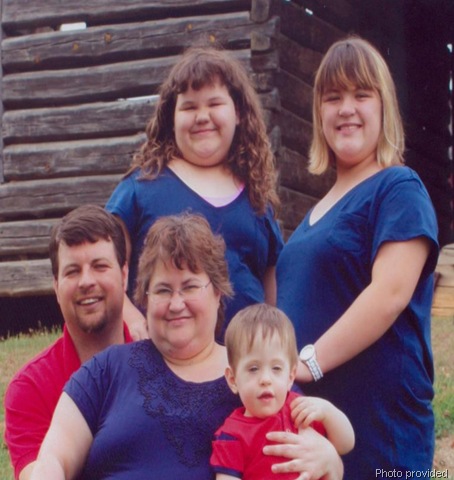 The Hughes family's first family portrait since Adam joined their family in September.
Editor's note – This story is the beginning of a series that follows families within the BIC school district.  This series follows families, staff and students, who have either adopted or are planning to adopt.
AMBER ROLLAND – Hoof Prints Staff
The waiting game was over. Mrs. Lisa Hughes felt a rush of emotions as she prepared to walk through the door. Nervousness. Anxiousness. Immense joy. Glorious relief. She worried about how her youngest daughter Alissa would react. After all, she'd been the baby of the family for 10 years. Would she be jealous? Or would Alissa be overwhelmingly happy like she was?
All of these fears went out the window when Alissa walked into the room first. As soon as the brown-headed, blue-eyed little boy took one look at Alissa from his place in the arms of a foster care parent, he immediately stretched his arms out toward her.
Joyfully, she picked him up and turned to her mother. Just like that, his big blue eyes held not only Mrs. Hughes's gaze but also her heart as he reached for her. He was then passed around to her oldest daughter Olevia and her husband Charles as he reached for each of them as well. They were all captivated by his big blue eyes and sweet nature.
"It was like he'd been waiting for us the whole time," Mrs. Hughes said.
Roughly four weeks prior to this event, Mrs. Hughes had been sitting in her third hour class on the first day of school preparing to teach. She had been a part of the waiting game for several months now, so a phone call wasn't the first and foremost conscious thought on her mind.
Then her phone rang.
Mrs. Hughes quickly answered and heard the voice of her adoption case worker on the other end. The woman told her that she might have a baby for her family and that his name was Adam. A video of him was on the way to the Hughes house.
Mrs. Hughes and her family watched the video of Adam, who will be two years old this month, and they immediately knew that he was right for them. She let her case worker know that they were interested in adopting Adam, and the waiting game resumed.
Two weeks later, Mrs. Hughes was sitting in her class when her phone rang again. After Mrs. Hughes answered, she rushed out of the room in tears, leaving students puzzled and worried. However, she wasn't crying out of sorrow but out of joy; they were going to get to adopt Adam.
Choking back sobs, she called her husband, and they cried together. They had to wait another two weeks before they could go get Adam, but the wait was worth it.
Mrs. Hughes and her husband had decided to adopt because they couldn't have any more kids and had always felt like adopting would be a good thing to do. Originally, they had intended to adopt siblings, specifically boys five years old or younger, but when they saw Adam in that video, none of their original intentions mattered. They decided he was all they needed.
Adam was put into foster care immediately after his birth and stayed there for about a year. He was then put back into the system because he was being neglected by his foster parents, evidenced by his developmental delays.
When Mrs. Hughes goes home to Adam at the end of the day, she doesn't spend her time potty training him. She doesn't teach him the names of his body parts. She doesn't chase him around the house by following a path of destruction that usually accompanies toddlers at this age. She doesn't call in a cleaning crew to clean up the mess he leaves after trying to feed himself mushy peas and carrots. Instead, she and her family spend their time teaching Adam the basics, like how to eat "grown-up" food and how to walk.
When he came to them in September, he was still drinking from a bottle even though he was almost two because of the neglect he suffered in a previous foster care home. Compared to a normal two-year-old toddler, who would be running, jumping, climbing, starting to form sentences, understanding rules, dressing (and undressing) himself, and learning to feed himself with a fork and spoon, Adam is far behind, giving the "terrible twos" a completely different meaning.
While it's been hard for Adam to adjust to these big changes, it hasn't been easy for Mrs. Hughes either.
"For several years, my girls have been big enough to do things on their own," Mrs. Hughes said. "Now that we have Adam, he requires all of our attention. We can't just leave him in a room by himself and go do our own thing like we've gotten used to."
Though the four-week wait after receiving the initial call about Adam seemed agonizing to Mrs. Hughes and her family, the adoption process went by relatively quick for them. They began their paperwork last October, and after completing the required classes and having a home study, the process was completed at the end of April. All they had to do after that was wait. A short month later, they received their first call.
Their case worker informed them about a baby boy who was three or four months old. Their rising excitement quickly bubbled into disappointment, though. The baby's mother was a drug addict, and he required adoptive parents who could stay home with him all the time. Because Mrs. Hughes and her husband couldn't quit their jobs, they had to reluctantly say no. Then the waiting game continued until they heard about Adam in August.
"When you've waited this long, it's just incredible," she said. "I don't think we were truly happy until we got Adam. Not only me and my husband, but my girls, too. They can't wait to see him every day. He's really brightened our home."