Waiting game, round two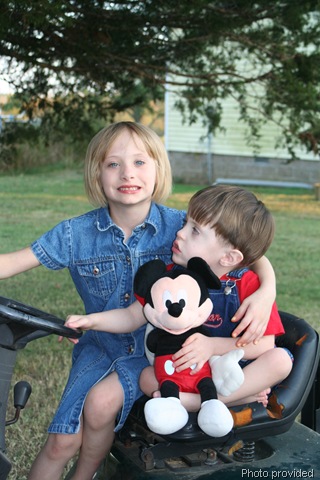 Adam Hughes gazes at his sister Donna Jo after her recent addition to the Hughes family.
(Editor's Note – This story is a follow-up to a previously published story about the the Hughes family's adoption of their son Adam.)
AMBER ROLLAND – Hoof Prints Editor
Mrs. Lisa Hughes wasn't aware that she had been playing the waiting game again until it was already over.
After finalizing the adoption of her now three-year-old son Adam back in April, she had been keeping track of his two older sisters through her Facebook friendship with the woman in charge of the sisters' foster home.
Knowing that her husband had grown up not knowing one of his siblings and that it had been difficult on him, Mrs. Hughes wanted to ensure that Adam had the opportunity to know his sisters – both the ones that were related to him biologically and the ones through adoption.
Adam has two older biological sisters:  Donna Jo, six, and Emily, four. Both had been placed in a different foster home from Adam, barring them the opportunity to know him, and had been there for three and a half years. Emily was diagnosed with a mental illness and subsequently placed into a long-term care facility, where she was receiving the proper care she needed.
It was Donna Jo that Mrs. Hughes worried about.
The foster home that she was living in also housed seven other children but Donna Jo always seemed sad and detached from everyone in the pictures Mrs. Hughes would see on Facebook.
"Being a religious person, I just prayed that they were loving her and taking care of her the way they should be," Mrs. Hughes said. "And if not, I prayed that God would find a way for her to be with Adam."
These prayers were answered when Mrs. Hughes received an unexpected phone call during the middle of September. Donna Jo's foster home was being shut down due to issues with the owner's paperwork and they wanted Mrs. Hughes to adopt her.
"I knew that what I had been praying for had come about," Mrs. Hughes said, "so we just went and got her and that was it."
Though the waiting game was several months shorter this time around, Mrs. Hughes and her family will face many more difficult issues in their adoption of Donna Jo. When they first picked up Adam, who was only almost two years old at the time, they spent their time trying to compensate for his developmental days suffered as a result of the neglect he received in his foster home.
While they had to ween Adam off of a bottle and teach him to walk and eat "grown-up" food, they will be addressing Donna Jo's emotional issues, a result of her being old enough to remember what she's been through. As if that weren't enough, the adoption process may take even longer than normal because Donna Jo's foster family is still trying to obtain visitation rights in order to be considered for adoption.
Though Mrs. Hughes and her family have had a lot shoveled onto their plate out of the blue, she still knows this was the best thing that could've happened for Donna Jo and Adam and has known it since they first met each other. Donna Jo quietly and nervously rubbed Adam's face and he responded simply by grinning at her. Since then they've gradually grown into each other, with Donna Jo loving Adam from the start and him getting used to her and beginning to understand as he gets older.
Donna Jo has already made leaps and bounds of progress since she first came to be a part of the Hughes family in September. In the beginning she cried often because she was unused to her new surroundings. Donna Jo was still very nervous and sad frequently but that too passed. Now Mrs. Hughes has to be careful to see to it that Adam doesn't over-express his love for his "new" sister.
"We have to be careful," Mrs. Hughes said, "because sometimes he just wants to get ahold of her and just pinch her."
Adam is able to share his affection with all of his sisters; in addition to Donna Jo, Olevia and Alissa round out the trio of siblings that live with him. In keeping true to her aim for Adam to know all of his siblings and be part of a complete family, Mrs. Hughes takes Adam and Donna Jo to visit Emily at her facility.
"I just felt like with them being siblings," Mrs. Hughes said, "if I could keep them together, then that's what should happen."