Upperclassmen share wisdom with sophomores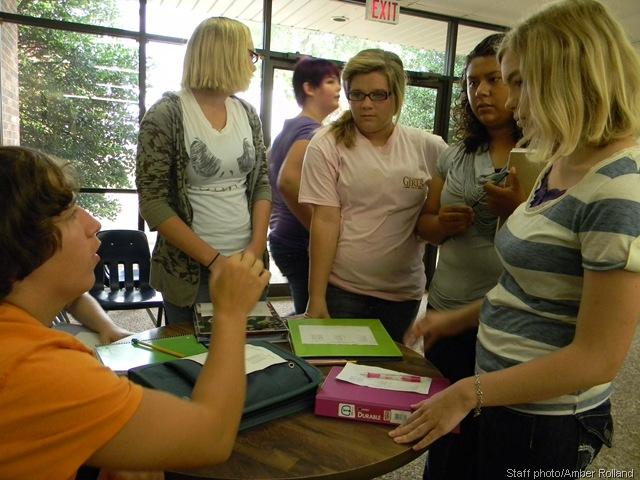 The first days of school can be challenging for incoming sophomores.
MORGAN BARNES – Hoof Prints Staff
After missing the bus on his very first day of high school, senior Derrick Moore knew he had a journey ahead of him.
"At first, it was tough getting a hang of the classes," Derrick said. "But after that first week, it was a lot easier."
Sophomores seem to have so much to look forward to thanks to the horror stories that are passed down each year from the juniors and seniors. Sophomores seeking advice should look no further than their fellow upperclassmen, who are more than willing to share their experiences, both good and bad, from their first year of high school.
Derrick as well as fellow classmate Rafael Martinez encourage sophomores to complete the difficult classes first. Rafael is currently one of the top 10 students of the senior class, an accomplishment he didn't receive by taking easy classes.
"Sophomore year was a new experience, new teachers, new classes," Rafael said. "But most of all, it required more work to maintain grades. I recommend studying, of course, but also try to get on the teacher's good side. Don't procrastinate and sophomore year will be much easier."
Procrastination seemed to be a common thing that many former sophomores warned against.  Senior Chasity Garrett was proud of herself for facing her fears and taking speech class her sophomore year, something many students put off until their senior year.
"I'm glad I took speech to get it out of the way," Chasity said. "I'm not that much of a public speaker."
Though junior Justen Bolt didn't get nervous making speeches, he quickly learned that responsibility and maturity are a necessity in high school. Teachers expect you to be respectful and honest, leaving any childish behavior in junior high.
"Think before you say or do anything," Justen said. "Actions and irresponsible choices can get you in a lot of trouble."