Two-year-old battling cancer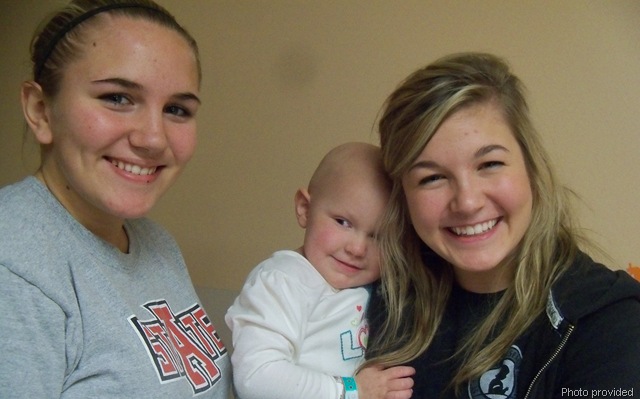 Emily and Taylor Owens with Scout Lyerly.
CLAY TURNER – Hoof Prints Staff
Bailey Owens sits in a hospital bed next to Scout Lyerly who is leaning her already-balding head next to Bailey's shoulder. They are listening to "Stuck Like Glue" on Bailey's Ipod. As Scout sits there in her pajamas listening to the music, she hears a string that particularly appeals to her. One second they are sitting down jamming out to Sugarland, and then the next, she is dancing around making funny faces. For a moment, it's as if everything is back to normal.
On June 28, a few months shy of her second birthday, Scout Lyerly was diagnosed with cancer. Since then, it has taken a toll on not only the Lyerly family but also the Owens family. Taylor Owens still remembers the day they found out all too clearly. Scout had been having pains in her leg and she wouldn't walk. The doctors were sure it was juvenile rheumatoid arthritis.
It had been just a regular day at the office on the Owens farm. Leslie, Scout's mom, was the secretary for their dad. On that day, Leslie took Scout to Arkansas Children's Hospital in Little Rock for a bone scan. The doctors wanted to do this bone scan to make sure Scout didn't have leukemia or anything worse, such as neuroblastoma. They were 99 percent sure it wasn't.
When Taylor went to babysit Jaxson and Jett, Scout's cousins, on the same day, Holly, another distant cousin, was about to leave their house. Holly asked Taylor if she had heard anything. She hadn't. Her world, as well as the other Owens's world, changed when she heard the rest: "I can't believe Scout has neuroblastoma," Holly said.
Now, whenever they have free time on their hands, the Owens family is always at the Lyerly's house having dinner while exchanging the day's events, or, in the girls' cases, playing with Scout. But, as Taylor related, it hadn't always been this way.
During the ice storm last year, the Lyerlys took them in after the Owens's temporarily lost power. They stayed with them for 19 days and realized things about each other that they hadn't already known. After they went back to their house, they found that a habit had formed. Soon, they were going to the Lylerly's house just about every night and soon became accustomed to being around them as if they were family. So, when Scout's diagnosis hit, not only did it affect the Lyerlys, but also the Owens family as well.
Scout started her fifth round of chemo on October 7. If by the sixth and final round of the cancer is completely gone from her bone marrow, she will then begin transplant and radiation. When she started, the cancer was in nearly 99 percent of one side of her body, and in nearly 70 percent of the other. Now, that they know of, she has less than five percent in her bone marrow.
While the girls are at the hospital, they make sure to entertain Scout.
"We paint, dance to Veggie-Tales on the juke-box and play in the play room. We do our fingernails, too," Taylor Owens said.
Though Scout is making progress, the Owens girls relate that they still miss the way things used to be before the diagnosis.
"The one thing I miss the most is being over there every night eating supper like normal families do," Taylor said. "I would always give Scout a bath every night and then we would dance around in our 'jammies'."
"Before the incident, I remember we would chase each other around the place," Emily Owens said. "I remember when it all started she wasn't really acting like herself. I was afraid I'd never get to chase her around again."
Scout Lyerly's mother, Leslie, has been praying ever since Scout's diagnosis. She and her husband, Erick, have faith that the Lord will take care of everything.
"Leslie has such a strong faith that God will heal Scout and she acknowledges the fact that God is all she has and all she needs," Taylor said.
While some would think that this would cause people to grow closer, Taylor sees it differently.
"We were already so close before," Taylor said. "We couldn't get any closer."