Tutoring leads sophomores to success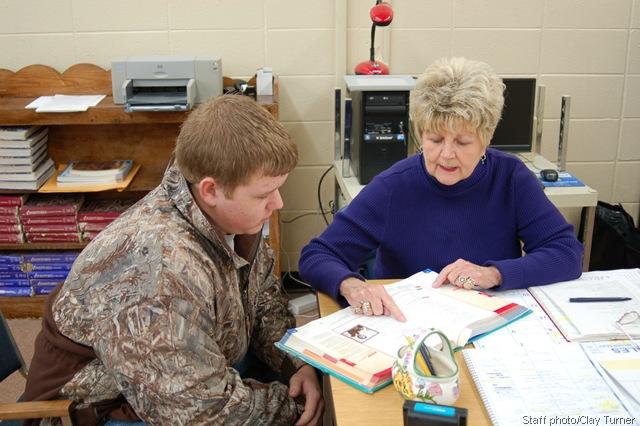 Tyler Cornish gets tutoring assistance from Mrs. Coty Cornish. An after-school program for tutoring began last year and has helped many students raise their grades in core classes.
CLAY TURNER – Hoof Prints Staff
Coral Burke sat in Ms. Cornish's English classroom anxiously waiting for her test grade to be announced. Only a few weeks before had she taken a test similar to this one and had received a grade lower than a C.
A few seconds passed before Ms. Cornish called out, "Coral Burke 100."
This huge difference in test grades for Coral can be attributed to the after-school tutoring program.
Since the beginning of the school year, Ms. Cornish, Mrs. Brightwell, and Mr. Brummett have been offering tutoring sessions after school on Mondays and Wednesdays for students. Coral and a few other sophomores have taken advantage of this extra help so that they could raise their grades. Coral's English score has already went up one letter grade.
Each week Ms. Cornish sends all of the students up to the chalkboard and asks them to write certain things that pertain to the quiz or the subject they are going over that week. She has helped Coral most with the rules for subjects and the types of verbs they take.
The classes have also helped fellow sophomore Courtney Garrett, who went from having C's and D's on her English tests to B's and A's.
"I always failed my English tests," Courtney said. "When I went to tutoring, it just helped a lot because Ms. Cornish went through everything step-by-step and helped me figure out everything I needed to know one-on-one."
Because of the individual help from these three teachers, the students who attend these tutoring sessions have seen significant increases in their grades on homework and tests.