Thomas: "Don't You Tube me, bro"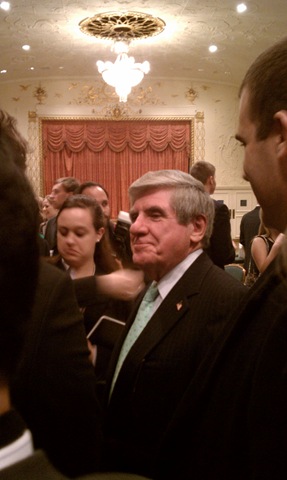 Senator Ben Nelson from Nebraska
Adviser's note – Colby Qualls, Hoof Prints editor, was selected as one of Arkansas's two delegates to the U.S. Senate Youth Program in Washington, D.C. From March 5-12, he will be blogging about his experience and it will be posted here.
March 7, 2011
COLBY QUALLS – Hoof Prints Editor
This morning started a little differently. The night before I had worked really hard on my second day blog entry and was ready to send it in. Well, as soon as I attempt to send it, it seems my Internet connection vanished. I played with it for about an hour that night, but I finally just gave up. When I awoke this morning, I found out I had slept a little later than I planned. This gave me less time to prepare for our breakfast routine. Also, I tried sending the blog entry again, which was a failure. After spending two separate half hour occasions talking to tech support with little progress, I was beginning to become a little steamed. Fortunately, by the grace of God, the Internet was actually up for five minutes so I could send in what I wrote.
At breakfast the program kicked off with its first formal speaker, Former Chief Judge of the U.S. Court of Appeals for the Tenth Circuit, Robert Henry. Robert Henry is actually an alumnus of the USSYP program. He represented Oklahoma in 1971. It's hard to believe, but after this week, I will officially be included in a network with this influential man. He was a great beginning of the speakers that are still to come. He was welcoming, funny, and very charismatic. I took one of his statements to heart. "Be sure to surround yourself with people that are smarter than you," Judge Robert Henry said. This trip certainly has accomplished that goal. At times I feel almost unworthy to be present during this week. As I talked to other delegates, and they made similar statements of feeling unworthy, it helped me retain some self-confidence. One of the cases he discussed that the Supreme Court recently ruled on dealt with the Westboro Baptist Church's right to protest at veteran's funerals. He made it perfectly clear that he thought they were evil, malicious people who are full of hate, but he agreed with the 8-1 decision that they have the constitutional right to speak and assemble freely and peaceably. That was one of the points he emphasized about being part of the judicial system. Judges must rule on the legality and constitutionality of each case even if they have strong emotions or opinions that dissent with the law. For the record, he has served in all three branches of government.
Next on the agenda was visiting the Capitol building. Today we only visited the Kennedy Caucus Room to hear Nancy Erickson, Secretary of the Senate, and Alan Frumin, Chief Parliamentarian of the Senate, speak. I am fairly certain we will be able to explore more of the Capitol later in the week. For the record, the Capitol building is exquisite. The building is formed from a lot of marble, and the decorum is very prestigious. The speakers were fascinating to hear insider accounts of the workings of the Senate. While I find the media essential in our political process, I did learn that sometimes they distort the animosity supposedly found behind the doors of the Senate. We were told that it can exist, but it is honestly not near as bad as it is portrayed. They also described the workings of the Senate. I feel that most people expect the Senate to be efficient and to be ruled by the majority. Such a thought is actually contrary to what the Founders, such as James Madison, intended. The House of Representatives was created to be speedier and to be ruled by simple majority. The Senate, in contrast, was formed to temper the high emotions and keep the House of Representatives in line. I don't want to go into extreme detail about this topic, especially if you aren't interested in the subject, but I would encourage others to research the workings of the Senate.
Then, we ate lunch in the Reserve Officers Club before listening to one of the Associate Senate Historians, Betty Koed, speak. I am going to be perfectly frank, I was only semi-interested in this presentation. She spent her time describing the history of the formation of the Constitution and the Senate in general. While I am a huge history fan, it was slightly dull considering we knew the basic history that she was detailing. Now, when we began the q & a with her, I was much more attentive. She knew a lot about the history of the Senate, and if we were given more time, I am sure we would have heard some great stories.
My favorite part of the day, hands down, was meeting Justice Clarence Thomas. He may be known as the Silent Judge, but he was anything but silent during our conference. He had a very friendly, sincere, and open manner. Most of the delegates were rolling by his remarks or anecdotes. It was obvious that he was extremely honest when answering any of our questions. The man is truly an inspiration. Even if you may not agree with every decision he made on the bench, you must admit that he is a highly intelligent and impressionable man. Many delegates openly admitted, not to him just to clarify, that they were not advocates of his decisions, but they really enjoyed him speaking. It was harder for them to discredit him. One of his memorable quotes was "don't YouTube me bro."
Once we finished questioning Justice Thomas, we were able to sneak a peek inside the actual court of the Supreme Court. We weren't able to step inside, or even be in the doorway long, but at least we were able to see where the hearings actually happen. After having steak for dinner, we were served the infamous Capitol replica dessert. This miniature of the Capitol was shaped out of white chocolate. Inside the exterior, custard was topped with raspberries and whip cream. I wonder if they are worried about the whole child obesity issue, but then I remember that we climbed five floors of stairs today.
Our day finished with listening to Senator Ben Nelson of Nebraska. He is actually the Democratic Co-Chair of this year's program. He focused on the need for bipartisanship and more center related politics. Just from hearing his ideals and some of his stances on the issues, I think I have become a fan. Now, he did vote yes on the health care bill. He did explain his reasons for it, and even said that he hopes that it is reformed because there are many areas of it that are not complete. He did say that total repeal should not be the answer. On the flip side, he believes his fellow Democratic colleagues in the Senate are not willing to cut enough in the budget. I enjoyed listening to a candidate that was not really extreme in ideology. He genuinely seemed more moderate, and more ready for cooperation.
Every day seems to top the next one. I will admit though that the whole agenda is starting to take a toll on me. I am ready to crash each night. I also feel that my blog entries are already starting to be less coherent and well formed. I ask that you forgive me in advance. I am excited though to hear that so many are eager for me to relate what I have experienced. I promise that after this week, not immediately though, I will be willing to talk more in detail and more personally. Until the next blog entry.