Taping the school red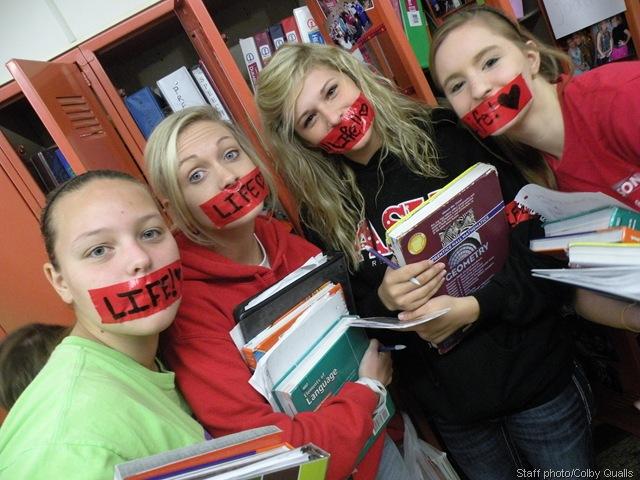 Brittany Stockton, Cassidy Qualls, Brittany Fowler and Katelyn Sparkman recently participated in the pro life demonstration as a part of CODE.
CLAY TURNER – Hoof Prints Staff
Red. Red. Red…tape covering 10 to 20 students' mouths. Life. That is what stares at every other student either walking past them in the hallways. Little does anyone know that it all means more than meets the eye.
Kaylee Greathouse is a part of CODE, a Christian club stationed at BIC which stands for Changing Others by Devoting Everything, which met in the library one afternoon to discuss participating in the Pro-Life Day of Silence. The day itself is put aside every year as a sort of way to represent the thousands of babies that have their own voices permanently silenced due to abortion.
There is a hand-vote for the number of students planning on participating. Kaylee is among the unanimous group of students that raise their hands to convey they are going to participate.
The following week, Kaylee and the other students forfeited their own voices and brought out their red duct tape and fat, black Sharpies. In a matter of periods, the duct tape was covering their mouths with the word "Life" written across it. Throughout the rest of the day, students were baffled when they passed them. Some even went out of their way by asking them why they weren't speaking. They didn't answer them, they just handed them a piece of paper which stated how many children are silenced each year and how none of them will ever have the opportunity to be mentioned in the news or even have their own funeral.
A lot of the students became interested instantly. Some even put the tape over their own mouths after they realized the reason behind the cause. Many of the supporters were surprised at the amount of students that participated after they realized what they were doing. One of these students included Jodiee Clay.
"I didn't realize there were that many people that would disagree with it," Jodiee said.
The Pro-Life Day of Silence allowed students like Kaylee to take a stand for what they believed in.
"Everybody makes mistakes," Kaylee said. "I just don't think it's right to take away a baby's life because God put that baby there for a reason and you just don't have the right to kill it."
Even though they didn't orally protest their opinion of the cause, the students themselves still believe they made a difference.
"What we did yesterday was the first step in actually having a say in abortion and how we feel about it," Jodiee said.