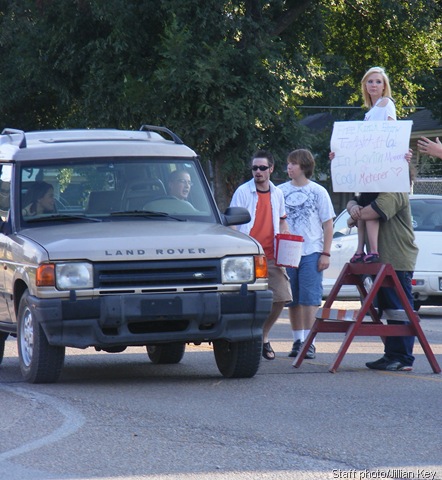 Friends of Cody Michener collect donations from motorists before the start of the recent benefit concert to assist his family with funeral expenses.
JILLIAN KEY – Hoof Prints Staff
"When we asked Cody's friends what Cody would want, they said 'loud,'" concert coordinator Ben Forbs said.
Saturday, Aug. 28, the Melody Theater hosted The Loud Farewell, the Cody Michener Memorial Show. The show was a fundraiser. Donations only were accepted.
Colt Denny, senior, who was a close friend of Cody, took matters into his own hands. He showed initiative by planning every aspect of the benefit concert. Colt had known that the family needed the financial help for covering the cost of the funeral.
To start, Colt and Lisa Churchwell asked the family for permission and then went into action. The family agreed to the concert and showed great appreciation. "Something had to be done," said Colt Denny. Colt then asked his brother, Dalton Denny, who he should contact to get this started. That's when Colt found Forbs. Ben and Colt then got together and started to plan. They found several local bands that were willing to play for the benefit. As Hope Perishes, Talahassle, Monolith, Silent Secrets and Seeing the Abyss all performed. "They respected the cause and got together as a selfless act, and then made it happen," Colt said.
As a result, around $1,300 was raised. Initially, the donations were to go towards funeral expenses. However, due to the amount donated, they also were able to purchase a monument.
"The concert was a perfect representation of Cody," Colt said. "First of all, it was the type of music that Cody listened to, the whole idea of us having fun up there was what Cody was all about, like 'lets get up and do something crazy' and that was pretty much what the whole night was."