Student turned soldier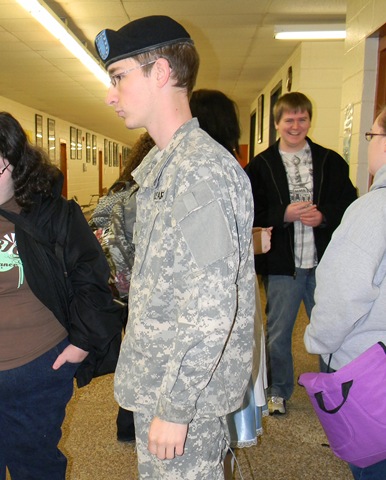 Timothy Neal donned his National Guard camo for Wannabee Day during the recent Homecoming Week festivities.
BIANCA GARCIA – Hoof Prints Staff
It was a camouflage booth that attracted him. It was a man in camouflage that changed his life.
Timothy always had an interest in the military, but it wasn't until last year that his interest turned into a reality. During his junior year, Sergeant Kelly came to the school and set up a booth full of information about the military. That's when Timothy made a big decision. Sgt. Kelly went to his house and explained everything to his family. Timothy was soon to join the Arkansas National Guard.
"Being involved in the National Guard was something I always wanted to do with my life," Neal said.
After filing the papers, Timothy shipped off to Fort Jackson, S.C. on June 2 for basic training. During basic training he learned about infantry and learned how to defend himself.
"Basic training was actually fun, I enjoyed it a lot," Neal said.
Although Timothy enjoyed himself during training, it made him miss home. It also upset him that he missed his friend Cody Michener's funeral. Timothy shipped back right before his senior year.
Once a month he has to attend drill in Jonesboro. He also is one of the few students that pays his own bills such as his car insurance and his phone bill. He pays these bills by working at the John Deere Greenway in Monette. His job usually consists of cleaning the shop and sometimes helping with the tractors' maintenance.
After graduating from high school, he will attend advanced training in Fort Lee, Va., on June 9 until late August. While at advanced training, he will learn about his chosen area of study. After returning, he will join the 875th unit in Jonesboro.
He also plans to attend Arkansas State University in Jonesboro in the fall. By being in the National Guard, his tuition and books will be paid for. Currently Timothy plans on living in the dorms and getting a masters degree in history.
Although he plans to attend college, he still may have to drop it and ship overseas. Timothy signed a contract for six years. There is a good chance that he will be deployed during that time.
"It scares me to an extent to know that if I was put in a situation that I might have to pull the trigger on someone and it scares me that I have to do that to defend myself," Neal said.
Timothy encourages anyone who is interested with doing something with their lives and having college and insurance benefits that the military would be a good thing for them.