Student stoked for Senate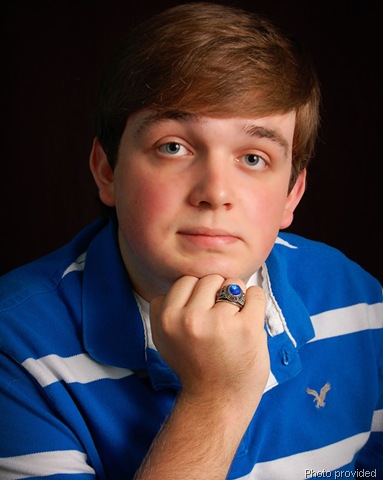 Colby Qualls
BIANCA GARICA – Hoof Prints Staff
As Colby Qualls's mother entered his grandparent's house, he knew something was amiss. Then she said, "Colby, I have some bad news." Colby instantly thought that someone in his family had been hurt. "It looks like you can't attend the regional quiz bowl tournament," she said.
Colby didn't understand.
Then it dawned on him why he wouldn't be able to attend. He realized that he was a finalist for the United States Senate Youth Program. As the tears of joy filled the room, they celebrated by doing a victory dance in his Gran's kitchen.
Three months earlier Colby heard about the USSYP scholarship through the counselor. He then filled out an application immediately. If he impressed the judges, he would continue to take a test and an interview.
"In my own eyes I'm qualified, but just to think that any student in the whole state of Arkansas can fill out a resume and compete, it was just intimidating," Qualls said.
During a basketball game, Mr. Randy Rose called Colby over to talk. That's when Colby was informed that Mr. Rose had received a call informing him that Colby was one of the 10 semifinalists selected for the USSYP. From there, he had to take a test.
"I just told myself you don't have to do exceptionally well, you just have to do better than everyone else," Qualls said. "So I kept in mind that most likely if this test was really hard then other students would have just as many problems with it as I did."
Following the test, Colby had to travel to Little Rock for an interview. There were a total of nine judges. Three of them sat in the front and six of them sat in the back of the room. All of the semifinalists received the same 10 questions within the time limit of 15 minutes. The questions ranged from politics to economic conditions to disaster relief.
"I felt that I started and ended strong but the middle was a little shaky," Qualls said.
After the interview, there was a reception for the semifinalists to mingle and meet the judges. There Colby realized the semifinalists were just as accomplished as him, if not more.
"Everyone there was accomplished and intelligent," Qualls said. "It was certainly a reality check on my part."
Also while mingling Colby felt slightly out of place.
"I believe that I come from a different culture from what many of them come from," Qualls said. "For example, one of them (other semifinalists) takes trips to Tuscany and Milan, and I have never been outside of the U.S."
Although Colby didn't share these qualities, he felt as if coming from a small school gave him an advantage since Arkansas has previously never selected a finalist from a rural school for the program.
Since Colby is a finalist, he will receive a scholarship worth $5,000 that can be used at any accredited college in the U.S. He will also be able to participate in Washington Week.
From March 5-12, Colby, along with 103 finalists, will spend a week in Washington D.C. They will take tours and participate in many enriching activities. Some of the stops will include the Pentagon, the Smithsonian and other symbols of the three branches of government. They will also meet senators and a Supreme Court justice. He may possibly be able to meet President Obama though that is not guaranteed.
The entire trip including transportation and rooming arrangements is paid for by the program.  Also, all delegates will be protected by members of the ROTC. Each division of rooms will have an assigned ROTC leader who not only transports the delegates to other locations, but will keep guard in the hall at night.
"I want to be a senator one day so this will be a great experience," Qualls said. "I will get a personal look of our government with individuals that have similar interests. What could be better?"
Although Colby is attending Washington Week, he won't be able to attend the quiz bowl regional tournament. Colby is the captain of the team, and it is not likely that he will be able to make the tournament because it is the same day he gets back from his trip.
My team is a little worried, but I think they will be strong enough," Qualls said. "Last year we ranked fourth in the state tournament and only missed third place by a question. I believe that with such improvements from our team this year that they really don't even need me for regional competition."
In addition to being excited about his upcoming experience, Colby has also been humbled by the feedback he has received from friends and family to his achievement.
"The feedback from the community has been great," Qualls said. "They have been really supportive. When a student from the school succeeds, then the school succeeds. The same is true for the community. I am just simply representing the amazing men and women that have put their time and effort into me."