'Stache-ing the trophies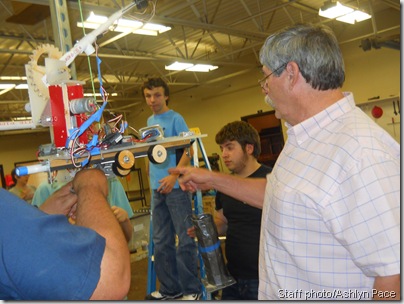 Steve Brummett discusses the robot design with Kyle Rollins and Christian Bradshaw during a recent work day.
ASHLYN PACE – Hoof Prints Staff
"We want to do good for his last year" Kyle Rollins said.
Comments like this are frequently heard among members of the Robotics club. This year
strikes as an emotional year for everyone, including Mr. Steve Brummett himself.
The interaction with students outside the classroom is one of the things Brummett finds most rewarding about Robotics.
"It's a project where they
might learn something but they still have fun doing it," Brummett said.
In past years Brummett and his teams have been very successful with Robotics. They have always
placed first or second at Jonesboro and have placed as high as fifth in Regionals at Fort Smith.
"The goal is to finish in the top three at Fort Smith," he said.
The bar has been set high for his final year, but he says the students will do good.
"We're pretty confident," Drew McFall, second year Robotics member, said.
According to Mr. Brummett they have two major obstacles to overcome. The bet for
this year has been made and if they make it to Nationals, he will stay and teach another year.
"I enjoy teaching at BIC but I want to be able to retire while I'm still able to do a lot of
things, "  he said.
He also noted that he is looking forward to living closer to his children.
Students have made it known that he will be missed, especially the Robotics members.
"Math won't be as fun anymore," Kyle Rollins said.