Seniors spend summer at MASH, Girls State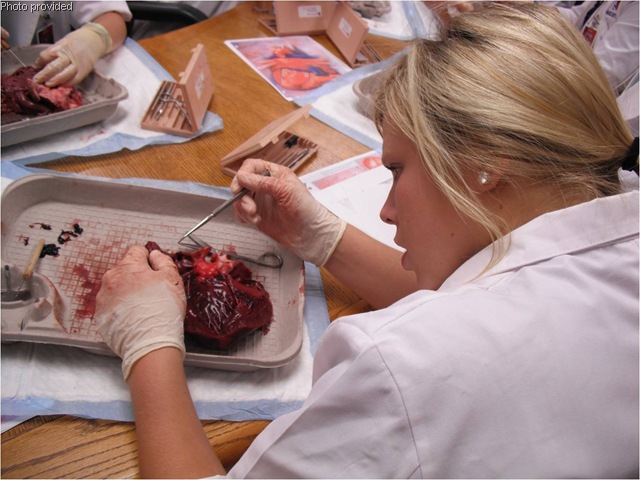 Megan Misner carefully examines a pig heart as part of the MASH program she attended over the summer.
AMBER ROLLAND – Hoof Prints Staff
She didn't expect so many people to be in the room, especially not an electrician changing a light bulb. She watched from the side as the latex-gloved hands made two incisions, concentration etched into the face belonging to the hands. Carefully, the sickly white newborn was pulled from the womb. She worried the baby had been stillborn. To her relief, it began to wail almost a minute later.
Senior Bianca Garcia had just witnessed her first Caesarean section as part of Medical Applications of Science for Health, a medical program that allows high school juniors and seniors interested in the medical field to receive hands-on experience.
"Besides shadowing and attending class at St. Bernard's in Jonesboro, we went to UAMS where we toured a laboratory. While we were there, we got to make lotions, lip gloss, and body scrubs," Bianca said.
She and fellow senior Megan Misner were two of 20 students who received the opportunity to participate in MASH this past summer. Neither of them expected what they saw or did.
Instead of being lectured for hours day after day, Megan and Bianca found themselves shadowing different doctors every morning and performing various medical procedures each afternoon. In addition to the relatively easy tasks of becoming CPR-certified and setting casts on each other, they were also faced with the challenges of practicing with a new robotic medical device that assists with prostatectomies and learning to dissect and re-suture a pig's heart. Thankfully, dummies were used when it came time for them to learn to insert catheters and start IVs.
Bianca had a few initial problems with the IV. On her first try, she took the cap off the needle and accidently pushed a button on the machine, ejecting the needle. After receiving a new needle, she poked her finger, sending a trickle of blood down her hand. Finally, on the third try, she correctly placed the needle in the dummy.
"I stabbed myself in the pinky with the needle after I opened the lid," Bianca said. "I didn't know what was going on when I saw the thread hanging from my hand that comes out after the needle is inserted. I pulled the needle out and my glove started to fill with blood"
Setting the cast didn't cause any major problems, but when it came time for their casts to be taken off, some students experienced fear, including Megan.
"They used a saw with a circular blade to cut off everyone's casts. It wouldn't cut skin, though," Megan said. Despite the professionals running the blade along someone's arm, some students still had their misgivings. "One boy tried to take his cast off himself without the saw and almost ripped off his hand."
Besides seeing an actual C-section, Bianca also had the opportunity to see the removal of a sty and a gastric bypass surgery performed live on-screen, though all she could really see were intestines. A day of shadowing an ophthalmologist also led to her seeing a patient come in who had somehow managed to shoot himself in the eye with a staple gun, leaving him possibly permanently blinded.
"It was Friday, so there weren't any surgeries scheduled," Bianca said. "I had just been watching the doctors perform eye exams when the nurses at the front desk got the call about the man. The staple had fallen out sometime after his eye got shot, but I could see the black hole left by one of the staple's prongs in his pupil. He couldn't read any of the charts and could barely see someone's hand in front of his face. Everything inside his eye had been completely shattered."
Megan, on the other hand, was more interested in fields such as dentistry, physical therapy and pharmacy, so she opted out of surgeries. Like real dentists and orthodontists she saw a root canal, a set of braces being put on and a tooth filling up close and personal.
MASH wasn't all work though. After their group's casts had set, they competed in "cast games," competitions in which they had to use their casted arm to complete various tasks such as writing their name, picking up Skittles and sorting them and washing barbecue sauce off their hands. Megan's cast still smells like KC Masterpiece.
Megan and Bianca also received another great opportunity in the form of Girls State, which allowed them to see how the political process worked from the inside. Bianca was elected Federalist senator, and Megan held a county position. They both had to present their platform and qualifications before their city. They were also allowed to go to the Capitol to present bills and tour the governor's office.
Both were somewhat nervous when they learned they would have to stay with girls they didn't know, but it was short-lived as the pep rally that took place between the two opposing political parties didn't leave room for anyone to be shy. Megan, part of the Nationalists who wore all blue, and Bianca, a member of the all-red Federalists, were surrounded by girls who had painted their faces, like them, and also girls who had painted their bodies. The opposing parties yelled chants back and forth to each other, including, "Dead Feds!" and "We Squish the Nats!"
Though they attended MASH and Girls State for different reasons, Bianca to help decide whether she should pursue a career in the medical field or in political science and Megan to decide which medical field was better suited for her and to learn about the political system, both can agree that they didn't expect MASH to be so hands-on or for Girls State to follow the political processes so meticulously.
"I didn't think Girls State would be so laid-back," Megan said. "I thought we would be on a strict schedule. Be here at a certain time. Go here. Lectures. Politics, politics, politics." Despite their initial misconceptions about how both programs would work, they are thankful for these opportunities that allowed them to gain useful knowledge and make new friends.