Princess prep begins for Clark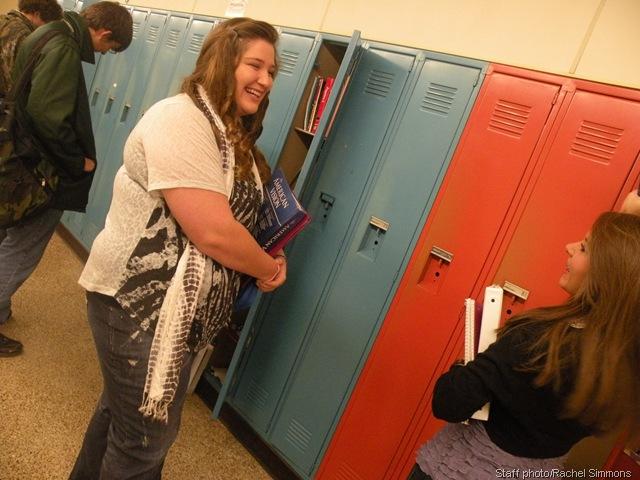 Jessica Clark, left, chats with Sarah Roddy between classes.
RACHEL SIMMONS – Hoof Prints Staff
She sits quietly in class. It's almost the end of fifth period. Mrs. Leah whispers something in her ear. As the news sets in, she lets out a shriek. Everyone wonders what's going on. Then she shares the news. She is one of the three homecoming princesses for the junior class.
"I was shocked. I had no idea I was going to get this," Jessica said.
Jessica Clark, junior, was voted one of the nine girls to walk in homecoming.
"I was really happy and Mrs. Leah was really happy for me because she's the one who told me," Jessica said.
Jessica's parents were also excited. They acted happier than she did about her being named princess. They can't wait to watch their daughter be one of the girls on the floor during the ceremony.
Jessica is unimaginably excited about this being her first year to actually be in homecoming instead of just watching from the stands. It is even more special now, knowing that only nine girls are chosen to walk, as opposed to the usual 15-20.
"A lot of girls that are my friends want to go shopping with me and help me pick out my dress," Jessica said.
"I think Jessica deserves to be princess because she has an overall good personality," Cesar Marroquin, junior, said. "You can go and talk to her about stuff. She never brings anybody down. Practically she's just like a best friend to anybody."
Cesar and Jessica have been friends for years and he was really excited for her when he found out she had gotten the title.
Blake Bolar, junior, also said that he was happy that Jessica got princess. He's always admired her good personality and how she is nice to everyone.
Jessica enjoys riding around with her friends and hanging out in her spare time. She also enjoys writing when she can, but doesn't have much time for it because of all of her schoolwork.