P.E. students – lean, mean chimichanga-eating machines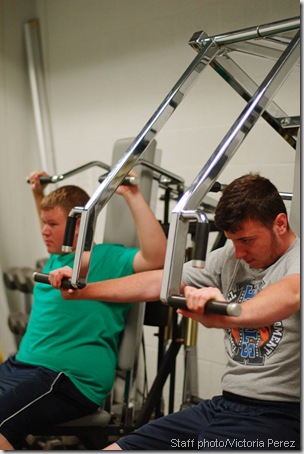 Drake Pipkin and Tyler Cornish work out as part of their rigorous P.E. curriculum. "We've been lifting weights, but after we get done lifting weights, it's going to be hard core," Pipkin said.
VICTORIA PEREZ – Hoof Prints Staff
Sweating, panting, whining, aching. This is what P.E. classes consist of ever since Coach Bill Taylor took over.
Students expected P.E. to be a class where they would play dodge ball, do homework, and maybe even take a few naps, yet they didn't expect to be faced with having to do countless push-ups, sit-ups, lunges, sprints, and laps.
"It was insanity," senior Diana Martinez said.
During the first several days of P.E., everyone felt the change. Literally.
"We all walked like pregnant ladies in heels." Martinez said.
Some students who are members of the senior boys' basketball team were already familiar with Coach Taylor's expectations, nevertheless, they didn't expect P.E. to be just as physically draining as their basketball practice.
"The first few days of having practice and P.E. were terrible," senior basketball player Alex Ballin said. "I was sore all over and I could barely move."
Despite their complaints, it's clear to everyone that the purpose for this change was to keep students healthier and physically active. Consequently, students say that they no longer get tired as easily, and no longer feel guilty when they splurge on fast foods.
"Now I can eat all the chimichangas I want and I don't feel bad about it,"  senior Kaley Hawkins said.
Not only has Coach Taylor introduced a new P.E. routine, but he has also found a new method of motivating his students. Several students claim that Coach Taylor enjoys creamy peanut butter crackers and a refreshing Diet Mountain Dew in front of them while they struggle to complete their daily P.E. exercise.
Coach Taylor, however, says students have exaggerated his snacking habits.
"It was one time," he said. "I guess it shows them what can happen if they eat and don't work out."