One student body, under God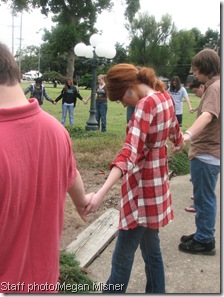 Kaley Poe and Alex Sexton join other students in prayer during SYATP on Sept. 23
BIANCA GARICA – Hoof Prints Staff
See You at the Pole held its eighteenth annual meeting on 7:30 am Wednesday, Sept. 23. Locally, a group of 30 BIC students gathered around the flag pole and prayed for our school and country.
This tradition is held on the fourth Wednesday of September for students of all ages. "I have been attending SYATP, since I was in the first grade," Kaley Poe said.
Many students look forward to attend SYATP. "Prayer is such an awesome thing to see and experience. SYATP is an amazing event to let students come and pray for the school," Timothy Neal said.
This year, there was a high number in attendance. "Turn out was awesome, God answered my prayer that there would be more than 20 students," Neal said.
Since there were so many students, this made the group more diverse. "I think SYATP is more fun to have a diverse group. This ensures to touch more areas of the community. If these people get involved, it also makes the meetings more interesting," Nicole Poe said.
The students who attended separated into four groups of six or seven people. Each group prayed individually for their families, their school and country. "We mainly prayed for our school athletics and grades," Taylor Owens said.
After each group prayed, everyone gathered together and held hands around the flag pole and was led in prayer. "SYATP is another way to show others what I believe in actions," Nicole Poe said.