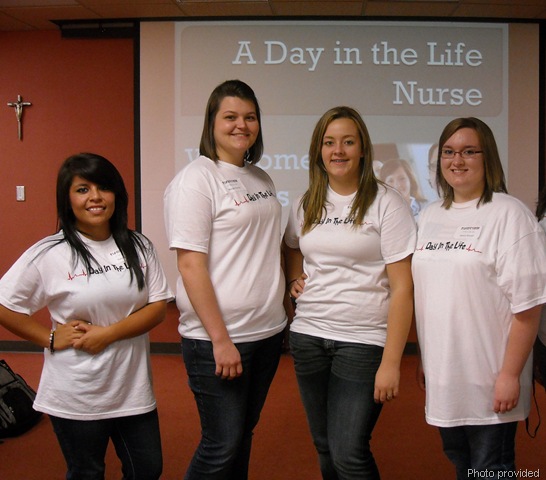 Seniors Dulce Rangel, Morgan Barnes, Danielle Schooley and Jessica Russell recently attended A Day in the Life of a Nurse, a program by St. Bernard's to give high school students a glimpse into various nursing careers.
MORGAN BARNES – Hoof Prints Staff
Students who participated in the tour were shocked by what they saw. As they walked into the lab, their jaws dropped. Skin samples, gallstones, removed bullets and blood were only a fraction of their amazement. A red medical bag, secured tightly with white tape, placed in the shape of a rectangle. An amputated leg was exactly what it was. A leg removed from an elderly person who suffered from diabetes.
Showered by gifts as they walked in the door, the nearly 80 seniors from all over Northeast Arkansas who participated in A Day In The Life Of A Nurse were in awe. Free t-shirts, hand sanitizer, eye glass cleaning cloths, band-aid holders, and a memorable experience are only a few of the rewarding items they received.
"I liked receiving all the free stuff," senior Danielle Schooley said, "but the best part was the guidance each speaker gave us."
Each student received information on various nursing careers including OB (delivery nurse), CRNA (anesthesiologist assistant), RN (Registered Nurse), Hospice (nurses that help cope with death) and many others. Each speaker gave a brief rundown of their usual workday, highlighting their favorite part of their career, as well as information on the average salary and required schooling for their job.
There was one CRNA in particular that caught the girls' eyes, not just because of his good looks but also for his genuine enthusiasm for his job. He told the students how wonderful it was to wake up and get ready to go to work without dread. Administering people in surgery was  said to be his dream job. Through his hard work and dedication, he achieved his dream of becoming a CRNA.
An OB nurse at St. Bernard's, was another favorite speaker of the students.  The students were very cooperative during her presentation. She advised the students as they used their fingers to guess how dilated a cervix was, which is only one of her daily duties.
Danielle Schooley particularly enjoyed the tour of the hospital towards the end of the program.
"My favorite part was the tour," Danielle said. "Seeing what nurses really do and seeing behind the scenes made me that much more interested in nursing."
"This program definitely helped me learn more about nursing," Jessica Russell said.
From informative speakers to hands on projects, A Day In The Life Of A Nurse was an appreciated experience. Each student that attended has their mind set to become some type of nurse in the future.
"I was very impressed with the program that Mrs. Yolanda put together." Dulce said, "Not only did I have a great time but I also learned a lot more about nursing and the requirements to become a nurse. If I had the opportunity, I would definitely go back."