New driving laws cause concern among teens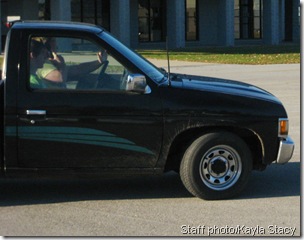 Mark Stone chats on his cell phone as he pull onto campus in spite of the new law prohibiting the use of cell phones by drivers under 18.
KAYLA STACY – Hoof Prints Staff
On July 31, the Arkansas legislature passed three new driving laws for drivers 18 or younger. The first law is any person from the age of 14-18 cannot use their cell phones while driving. Those who are 18-21 need a hands-free device to talk on the cell phones. The second law is the restriction of more than one passenger for anyone under the age of 18 unless their passenger is related to them or over the age of 21. The third law says that drivers under the age of 18 have to be off the road between 11 p.m-4 a.m. unless driving to and back from work, school and church activities or have an adult with them.
The cell phone law might be an issue with a lot of teenagers. Many teens pass the time while driving by talking or texting with their cell phones. Some recent data estimates that 56% of teens talk on their cell phones while driving and 13% read or write text messages.
In 2007, driving distractions such as talking and texting on the cell phones contributed to almost 1,000 car wrecks involving teenagers. A study conducted by the Virginia Tech Transportation Institute determined that texting while driving increases the risk of an accident by 23%. In spite of these statistics, about 60% of teens admit that they do text while drive. Among these texters are Drew Berry, Timothy Neal, Karla Marroquin, and Jessica Gray.
"I don't text and drive when my brother is with me because he does the texting, but if I'm driving by myself, I know my phone so well that I can drive and text without looking at my phone," Marroquin stated.
Even though statistics suggest that there is no safe way to text and drive, some teens feel they have the technique mastered. "I text the safe way, I don't just stare at my cell phone like most people, I don't even have to look at my cell phone," Gray stated.
Mrs. Julie Hatch, history teacher, has a different opinion. "Texting while driving is never a good idea. Driving is a very big responsibility that deserves your undivided attention. I definitely do not want my daughters texting while driving," Hatch stated.
The passenger law is another big issue with teens. Traditionally teenagers enjoy traveling together, but with the passage of this new law that practice could possibly result in a ticket.
"We are not going to make that a target, said Monette police chief Brian Carmichael. "We're not just going to go and pull over ever car with more than one passenger. We're still going to allow the use to go to school, as long as there are no problems, we're going to take it as a need-be situation."
According to www.keepthedrive.com, adding just one passenger to your car doubles the risk of a car wreck. In the U.S., 5,000 teens die every year which is an average of 14 a day. "I think the passenger law is a good idea, but when you want to hang out with your friends and sometimes you want to carpool, this law forbids it, so the government is more or less killing the environment," Marroquin stated. Amy Renteria was quick to say that when she got a car, regardless the law, she was still going to have more than one passenger.
Mrs. Hatch agreed with the underlying concept behind the law but wondered how it would impact families. "I understand the theory behind the passenger law, but it's going to be difficult for a lot of young drivers that car pool or have younger siblings because they can't take them anywhere."
With many teens, the curfew law isn't as big of an issue as the texting and passenger laws, but it has caused concerns among some young drivers. A lot of teens prefer to stay out late on weekends. With the new law being enforced, they have to be off the road by 11 p.m.
According to Centers for Disease Control figures, car crashes are the leading cause of death in teenagers. More than half of those fatalities happen at night. In 2007, out of the car wrecks at night, 130 of them involved a teenage driver.
Drew Berry doesn't like this law too much. "It kind of stinks, but I still do it anyways. It's very over-rated. When it comes to curfew, I don't even take my truck home and park, I just keep going," Berry stated.
"I don't like the new driving laws. I wish I was old enough to vote. I'd vote against them," Adam Tompkins stated.
Carmicheal stated that the police officers are not the ones who decided how big of a fine to give for breaking these laws. The court is the one who decides that, but as of now they have not had any problems with teenagers and these laws.