New computer filters function without fail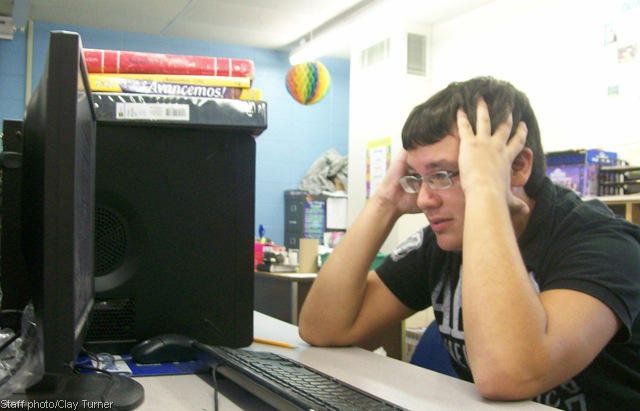 Junior Michael Ballin expresses his frustration when encountered a blocked website in the DLC classroom.
CLAY TURNER – Hoof Prints Staff
Students in Mrs. Hamrick's seventh period art class sit in their seats prepared to watch a video commemorating the tenth anniversary of 9/11. As Mrs. Hamrick clicks on a video on the History Channel website, she and the other students stop what they are doing and turn their heads toward the Smart Board at the front of the class.
They all brace themselves for the screaming, the burning Twin Towers and the havoc that they know immediately follows. One second. Two seconds. Three seconds. Then…a pop-up window appears. It states that the video they are attempting to view is blocked from the computer. And the notorious computer filters strike again.
Since the computer filters were installed on the computers at Buffalo Island Central this year, both students and teachers have experience mixed feelings over them. Mrs. Tricia Brightwell and her science students have yet to have any problems with them and she doesn't think she as an individual will ever have any problems with them. She is glad that they help the bandwidth and block a lot of the sites such as Facebook that would otherwise make the computers run slowly.
"In my opinion," Mrs. Brightwell said, "they're good but that's only because I haven't come across a problem yet."
Senior Alex Sexton hasn't had any problems with the computer filters either besides being blocked from looking things up on Wikipedia a few times although he would make them more less restricting if he had the choice.
"If teachers give students a reason to do something bad, they're gonna do it," he said. "If a page is blocked for no reason, that's just another reason for them to get into trouble."
There have been students negatively affected by the computer filters as well. Senior Jeremy Rivera takes a college English class online and has since figured out that he can't research on certain websites on the school's computers.
Junior Rachel Simmons tried looking up prom themes on the Stumps website a few weeks ago in study hall but she found she couldn't because of the filters.
"It made me really mad," she said. "I really needed to look stuff up because we needed to go over it in our prom committee meeting."
However it might seem, the original intention behind getting the new filter wasn't to frustrate students and teachers every time they tried to use a computer. According to IT coordinator Jake Engles, the school spent money this summer on getting new bandwidth and connections. In order for those to work, the school had to buy a filter to block such things as pornography. But since this particular filter hadn't been on the market very long, the school didn't get the filter until a week before school started.
"I, just being a one-man show with over 400 computers and 12 servers, have not had a chance to master it completely," Engles said. "But I think it's going real well. I've had no complaints of anybody seeing any porn, and that's my main goal."