Mystery chicken finds home on campus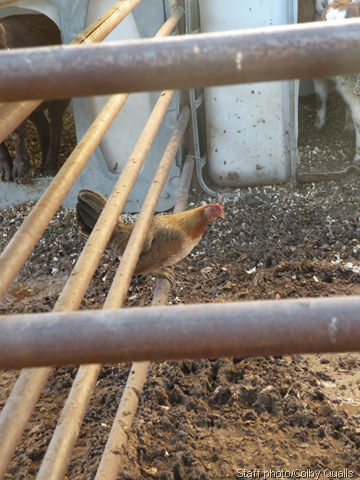 This chicken has taken up residence in the goat pens behind the agri building after mysteriously appearing on campus during Christmas break.
RACHEL SIMMONS – Hoof Prints Staff
He was walking down the hall and out the door, minding his own business. What came next was something unexpected.
Science teacher Eddie Dunigan thought that Monday morning would be just like any other. It was the first day back from Christmas break, so the most that he expected was cranky students with bad attitudes. Little did he know, he would get a little more excitement than that.
Mr. Dunigan walked out the door at the southwest corner of the school. To his surprise, a chicken was sitting atop a trash can right outside the door.
"All of a sudden I heard an explosion of feathers and cackling," Mr. Dunigan said. "The chicken was roosting on top of the trash can being frightened by me. It went one direction and I went the other because I was probably about as frightened as it was. I probably did a little screaming and cackling myself."
No one else witnessed Mr. D's experience, but he said it would've been a good thing to catch on video. He said that the chicken stayed outside the door until Tuesday morning, but then he figured that the chicken decided it was a goat because it decided to accompany the goats between the agri and music buildings.
Drew Berry was the first person to notice the chicken gawking around the campus shortly before Christmas. He said he laughed when he first saw it because it was just running around clucking.
No one has claimed the chicken, but a few are afraid that the barn owl that has been stalking the campus might enjoy the chicken for a snack. Some students have grown fond of the chicken and would hate to see it go.