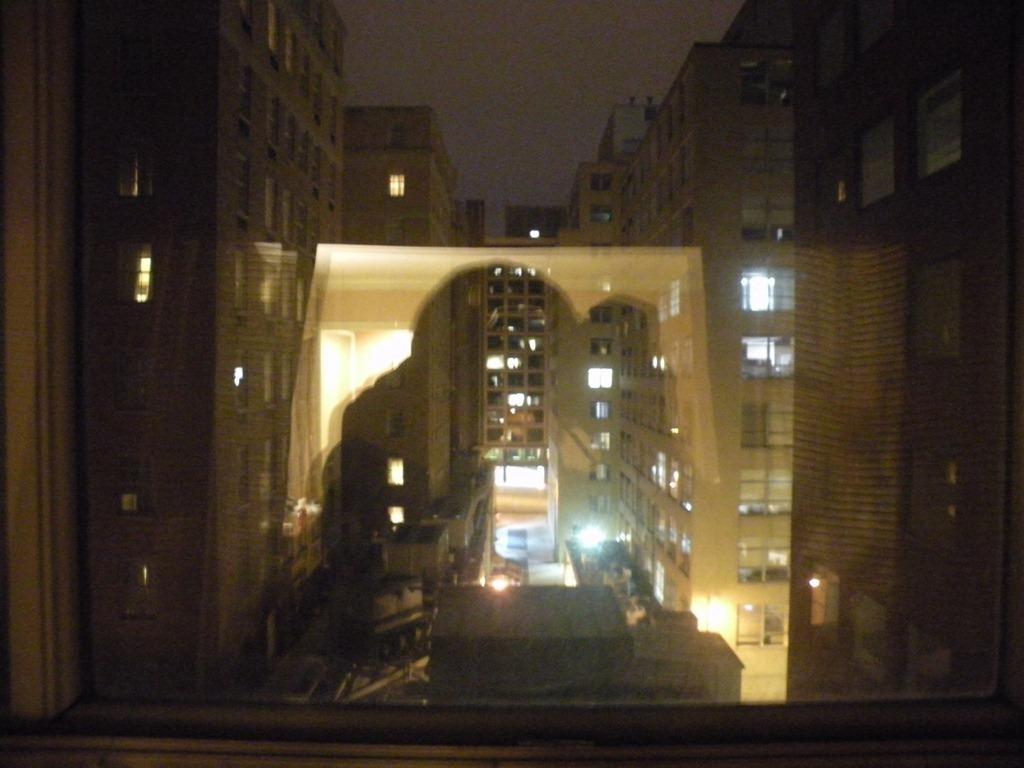 The view from my room at the Mayflower Hotel.
Adviser's note – Colby Qualls, Hoof Prints editor, was selected as one of Arkansas's two delegates to the U.S. Senate Youth Program in Washington, D.C. From March 5-12, he will be blogging about his experience and it will be posted here.
March 5, 2011
COLBY QUALLS – Hoof Prints Editor
As I began to board my plane for Memphis, I looked back at my mom. She was tearing up at the moment, not too thrilled of me travelling by plane alone. I had been waiting for this trip since early December, but at the last moment I was starting to get nervous.
For one, I do not enjoy flying. I have always had the philosophy that if God intended for humans to fly, he would have gave us each wings. Also, it was intimidating to be spending a week in our nation's capital with some of the brightest and most ambitious students across the United States. It's still hard to believe that somehow I was selected to be part of this delegation. Once I was seated on the plane, I looked out to see an overcast sky. It wasn't long before it started to pour. This is how my adventure started to unfold.
The actual flight was more bearable than I thought. I may have developed a few ulcers from worrying that the plane would spontaneously combust, but it was an actually smooth ride. Through most of the flight, I could only see a veil of clouds. As we began to approach D.C. though, the clouds dissolved revealing my destination. It was the equivalent of finally being able to unwrap a Christmas gift. We glided above the Pentagon and the Arlington Cemetery. It was a spectacular sight, even from high above. At this point my worries had subsided. I was ready for my trip of a lifetime.
Once I exited the plane, I met the two Mississippi delegates. They had taken the flight out of Memphis as well. While entering the baggage claim area, a man in military uniform greeted each of us individually and escorted us through Reagan International Airport. He is actually from the Little Rock area so we were able to connect. In addition, a photographer snapped numerous photos of our entourage moving through the airport. The experience was surreal. I certainly was not used to this type of treatment. The farther along we went, the more military officials joined us for security purposes. Only five minutes within D.C. and we were being treated like VIPs.
The Mayflower Hotel is not a hotel, it is a palace. I have visited some nice hotels before, but none like this. I am still a little shell shocked from it all. I feel I am being spoiled rotten. Did I mention the food was spectacular as well? I think I may have already decided just to stay in D.C. Anyway, the actual agenda for today was light. Really, it was primarily spent meeting fellow delegates. I have never met a group of students that were so interested in politics/government before. I felt at home. It's very possible that I have made good friends for life. After meeting alumni of the program, it is apparent that USSYPer's stay close even years down the road.
At the end of the day, our program coordinator gave us the ground rules. One, no nuts. There were so many delegates seriously allergic to nuts of all kinds that no one is allowed to eat nuts on this trip. Also, we were informed the proper etiquette when being around national leaders. Pretty basic stuff like how to address them, not to touch them, and to respect them at all times. Wednesday will be the day we meet President Obama. I learned this will be the highlight of everyone's trip. He is the president of the United States, but there are also many liberals present. I do like though that this Youth Senate is representative of the real Senate. It is fairly diverse, and I could accurately guess which delegate was from what state. Unfortunately, it is also a similar ratio of female involvement. Only 20 to 30 of the 104 delegates are females. That's what I have been told, and it seems that way as well.
I am stoked for the rest of the week. The night before, I only slept about four hours so I am exhausted. I will try to gain sleep so that I will be able to keep up with the rest of the week. My roommate, by the way, is from Maine. I am sure I will be getting to know him well. Will be sure to blog later.