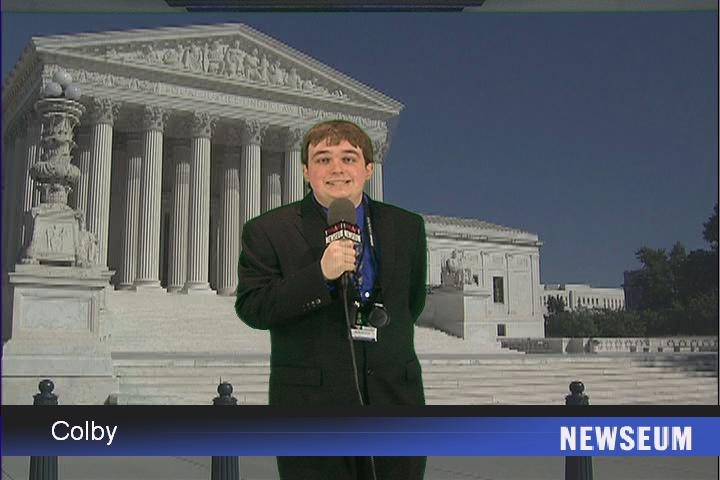 This photo was taken at the Newseum.  I was able to pretend to be a famous tv journalist in front of the Supreme Court thanks to a green screen.
Adviser's note – Colby Qualls, Hoof Prints editor, was selected as one of Arkansas's two delegates to the U.S. Senate Youth Program in Washington, D.C. From March 5-12, he will be blogging about his experience and it will be posted here.
March 6, 2011
COLBY QUALLS – Hoof Prints Editor
My morning began waking up around 6:30 in order to be down and fully dressed for breakfast at 7:30. The program likes to utilize its time, so we (delegates) are encouraged to bring everything down that we will need for the day. That is because as soon as we are finished with breakfast, we start with whatever may be on the agenda. I was disappointed to realize that today would only be a touring day instead of actually meeting/listening to one of our speakers. I am sure I will be singing a different tune after hearing nearly 30 different speakers, but hopefully not.
Breakfast was similar to lunch and dinner at the Mayflower. Basically anything that you could desire was present on that buffet. This means a lot coming from me. I am not a breakfast fan; on most occasions I skip breakfast altogether. It was not humanly possible to turn down this spread though. After finishing up our meal, we proceeded to take a group photograph. I learned today that they are making a yearbook for this full week, which each delegate will receive as a gift. Wow. Each day I am baffled by how much time, preparation, thought, and care are put into this week. For the record, about every eight or so delegates, usually less, have a military mentor. When I say military mentor, I mean an officer in the National Guard, Coast Guard, Marines, Air Force, or Army. These men and women went through a selection process just like us meaning that only the best and brightest are protecting us. I am honored to get to know such dedicated men and women who willing chose to be here for this week. Everyone one of them is a blast to be around.
Today was the first day we left the Mayflower. The entire USSYP group is divided into separate, secure buses each with a few military mentors. Our first stop was the Newseum. To put it mildly, it was phenomenal. I fell in love with it. My only complaint was that we had limited time to really explore. If I were given an uninterrupted time period just to soak in every detail, I probably would not come out of that building for weeks. Part of the reason I enjoyed it so much is because of my interest in the journalism and communication field. It really is a testament to the power of journalism. I think many people do not realize that without a free press, it would be practically impossible to maintain a democracy.
Sorry for taking a moment to stand on my soap box. Even if you aren't necessarily a huge fan of media, it also deals with a lot of history and pop culture in general. The whole museum is not only a huge archive of newspapers and other news related fields, but it is also high tech and interactive. I would recommend anyone to check out this building if they are in D.C. I promise it would be worth your time. Also, I was almost able to see Senator John McCain there. We learned he left only a fraction of a second before we arrived. Oh well. Hopefully he will be present at the Senator Reception, which is on Wednesday. In case you didn't remember from my previous post, that is the same day we meet President Obama. Wednesday is going to be a great day.
After the Newseum, we were supposed to visit the FDR Memorial and Thomas Jefferson Memorial. Due to rainy weather though, we had to change that part of the agenda. Instead we visited the Smithsonian Natural History Museum. I enjoyed it, and I also wished I had more time to explore, but I wasn't as fond of it as the Newseum. As we entered and exited the building though, we were each provided umbrellas so our nice business attire wouldn't be ruined. It reminded me of the view of Ted Kennedy's funeral when all of the mourners were kept sheltered while entering and leaving the cathedral.
Next we visited the Smithsonian American Art Museum. To state this plainly, I am not a huge art fan. So I wasn't as impressed with this stop as the others, nor did I want more time to explore. Honestly, I did like it. It was an enjoyable experience, but I am a speed admirer of art so I was ready to move on quicker than others. Also, I am not a fan of abstract, modern/contemporary, or sometimes even expressionism art. Generally I stuck to the traditional and realistic portraits.
Those were really the main activities of the day. Next was a formal dinner with some of the staff that put this program together. The military mentors were more formally introduced with a quick bio of each, the president of the foundation spoke to us, and each of the officers of the foundation were recognized. I really can't express enough how serious this program actually is. It is probably one of the best opportunities for a student available. There may be similar programs, but I doubt they pay for a week's worth of food (three course meals, three times a day), a week to stay in a prestigious hotel, a plane ticket to and from your hometown, plus the ability to meet with our nation's leaders. There simply are no other programs like it.
Also, one of the things I may enjoy the most about the trip is how all 104 delegates become family. I have met every single delegate; I can tell you their name, their state, and probably their political affiliation too. I am closer to some more than others, but only because I have been around some more than the others. I mention this too because I have already seen first-hand how close the alumni are.
Being a part of this week makes you part of a fraternity really. You are connected to any of the 104 delegates who have attended the past 49 years. It is an elite network of ambitious individuals. I know that if down the road I ever needed a favor from a fellow delegate, he or she would be more than willing to help me out.
Anyway, I feel like I am rambling and probably gave more information than you would like to know. But I will end this entry with some of the highlights of tomorrow. We will listen to Former Chief Judge, U.S. Court of Appeals for the Tenth Circuit, Robert Henry. Also we will be listening to Nancy Erickson and Alan Frumin, Secretary of the Senate and Chief Parliamentarian of the Senate respectively. We will also be visiting the Kennedy Caucus Room, the Reserve Officers Club, and the Supreme Court. We will visit the Supreme Court to meet Justice Clarence Thomas, known as the Silent Judge. In the past five years, he has not asked a single question during hearings. Maybe I will be brave enough to ask him about it. Also we will hear from Associate Senate Historinan, Betty Koed. The night will end with Ben Nelson speaking to us. I would say I am too excited to sleep, but the whole experience has me exhausted. Until my next entry.