Movin' On Up
The sophomores aren't the only ones preparing for their first year in High School. Mrs. Thomas and Mrs. Stricklin are making the adjustment as well. Both Mrs. Stricklin and Mrs. Thomas are having to adjust their teaching styles due to the age difference of the students they're teaching and the environment they're teaching in.
After three years in the Jr. High building, Mrs. Thomas decided to "move it on up" to the High School. In the new building, she teaches Physics, Physical Science, and Chemistry. After graduating college as a Physics Major, these subjects are right in her element. Most of her favorite memories as a teacher are the personal conversations with her students. While she likes teaching the younger kids at the Jr. High, Mrs. Thomas says that she enjoys teaching and working with the older kids as well.
"I enjoy working at the high school and working with kids of an older age group. But there's also things I like about working with the younger kids, though. They're more enthusiastic, they're not just trying to get the work done. They try to enjoy it more. So, there're pros and cons. I do miss the Jr. High, but I love teaching the High School kids," says Mrs. Thomas.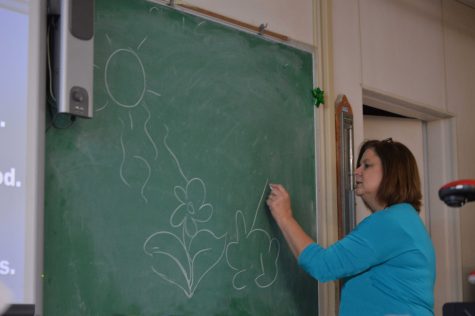 Mrs. Thomas wasn't the only one ready for a change. In the process of transitioning from the halls of the Jr. High to those of the High school, Mrs. Stricklin has decided not to retire but instead to continue her teaching career at BIC for a little while longer. For her thirtieth year teaching, Mrs. Stricklin is also back where she belongs, teaching the subjects she loves best: Environmental Science and Biology.
"I've never been teaching my thing in BIC… I've just started back," says Mrs. Stricklin.
Within thirty years of being an educator, Mrs. Stricklin has taught at Paragould, Piggott, and BIC. In each school district, her students drove her to be a great teacher.  When Mrs. Stricklin was asked what her inspiration is, she replied with, "Kids inspire me everyday. My students. You all inspire me." Stricklin fondly remembered her first experience at BIC, saying "Ya'll were just so cute and eager to learn."
This new transition to the High School won't stop them from working their hardest and helping the students learn. After all, the students are their inspirations, and they both picked up on teaching very early in their lives. "I believe teachers are born, not decided," says Mrs. Stricklin, "I went to school and was teaching my younger brother everything I was learning in school." "I used to tutor people in school and I kind of progressed from there in college," Mrs. Thomas stated.