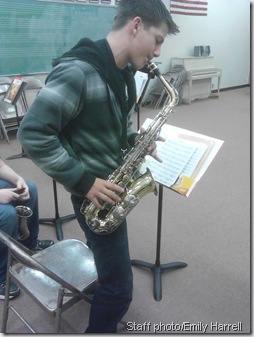 Editor's note – This is the first in a series of personality profiles on BIC High School students chosen at random.
EMILY HARRELL – Hoof Prints Staff
He smiled for the camera as he bench-pressed a school desk. Then, he almost destroyed Mrs. Yates's projector.
Many students asked Hunter Drury to play a role in their commercial speeches in Mrs. Yates's fifth hour class. Hunter works out a lot after school and loved to show it off for everyone during class.
He lifted the desk above his head and almost knocked her SmartBoard projector down from the ceiling. While most people would hide their face in shame, Hunter doesn't.
"I don't count that as embarrassing," he said.
Hunter is not only the school strong-man but he is a band member and a former robotics member.
"I've played the saxophone since seventh grade," Hunter said.
It seems like a difficult instrument to play, but according to Hunter it's actually pretty easy to learn. As for robotics, he was a member last year but decided not to rejoin in high school.
He quit because he needed to keep his grades up, but his parents are still helpers. They've been participating ever since his brother Trevor joined and enjoy helping the students build and program their robots.
His parents don't just help out with robotics, however, they also play a big role in his perfect attendance. Hunter has been a student at BIC since kindergarten and has never been counted absent.
Most students are lucky to get perfect attendance for one school year, Hunter has been counted present every school day for ten years, and counting. Although his parents are stricter on him than on his brothers, he doesn't mind their push for him to be at school.
"I've just always had perfect attendance so there's no point in missing now and screwing everything up," he said.
Outside of school Hunter likes to do just what his name says, hunt.  He preferably likes to go deer hunting or dove hunting. He's been going hunting with his dad since he was just a little boy. While most kids are content to sit back and watch their dads hunt, Hunter wanted to participate himself. He learned to shoot a shotgun at six years old.
"You gotta start sometime," he said.